(Editor Note: Insight Bytes focus on key economic issues and solutions for all of us, on Thursdays we spotlight in more depth Solutions to issues we have identified. Fridays we focus on how to build the Common Good. Please right click on images to see them larger in a separate tab. Click on the Index Topic Name at the beginning of each post to see more posts on that topic on PC or Laptop.)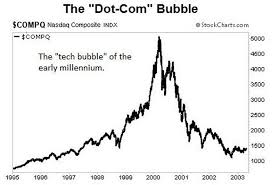 Image: investopedia.com
The present euphoria about the U.S. being able t0 win a trade war with China is fueling the stock market to new highs.  While, consumers reading the tariff headlines are beginning to pull up purchases scheduled for a later time.  This author talked with a consumer who heard that tariffs were going up 25 % in January, 2019 so she wanted to move her purchase of a refrigerator up to now just in case.  She didn't know if refrigerators were even going to be taxed or if the tariffs were going to happen for sure.  The tariffs are creating a buying contagion.  This buying fever is catching on with businesses too, as the West Coast ports report 4 times the normal amount of freight volume being offloaded last month.
This urgent pulling forward of  buying has happened before on a large scale in the U.S. in 1999.  The year 2000 fear that software would not be able to handle the switch from 1999 to 2000 due to program limitations triggered both corporate buyers and consumers to purchase new hardware and software that would fix the bug.  Sales were pulled forward into 1998 and 1999 then in 2000, sales dropped fast 'like the lights were turned out' the CEO of HP, Carly Fiorina  said.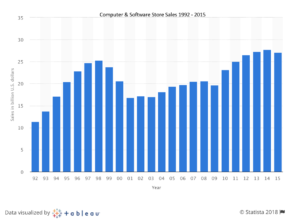 Source: Statista, 9/23/18
Computer software and hardware sales in stores fell 20 % by 2000 and another 19 % the following year.  Computer and software companies laid off workers, companies with high levels of debt defaulted and a recession ensued. Note that even as sales began to come back up by 2008 another recession hit slowing sales progress until reaching par level with 1998 in 2011.
Consumers and businesses are hit by the tariffs in several ways: first, they see prices go up due to contagion buying from fear of prices going up, second there is a lack of merchandise as suppliers run out of product and finally when tariffs kick in the buyers are hit with another rising price wave.
Next Steps:
We have outlined in earlier posts the disastrous effects of broad trade tariffs with no clear goal in mind hurting consumers and businesses alike with high prices, loss of contracts and reduction in jobs. The latest round of tariffs on $200 billion in Chinese goods is ratcheting up the war to a new level with China retaliating with $60 billion in tariffs against U.S. goods.  Plus, many businesses report non-tariff barriers being thrown up by the Chinese; slowing approval of shipments, asking for more paper work, requiring more inspections and delays in communication.  Farmers in the Midwest are losing soybean contracts to Russia and Brazil as the Chinese switch suppliers. The consequential damages to the U.S. economy are mounting while the GOP Administration thinks a trade war can be won.  Corporations and consumers are accelerating purchases to beat tariff dates which will create a mirage that the tariff policies are working until January 2019 arrives and sales spiral down due to all the advance purchasing.
We appeal to the White House to end the trade war, focus on the use of WTO offices, work with our allies and come up with a negotiated agreement with that is a win-win for all.  If China slips into a recession from this trade war or incurs a damaged economy it will not help U.S. businesses who are looking to China as a new high growth opportunity – the Chinese will have limited cash to buy any of our goods or services. ­­­