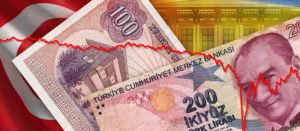 Image: gsiexchange.com
Last Friday, President Trump's tweet doubling tariffs on aluminum and steel from Turkey caused a major shock to the Turkey stock market and sent the lira spiraling down by 10 %.  However, the damage was not contained to just Turkey, emerging country currencies around the world took hits, the U.S. SPX took a .71 % dive.  Emerging countries with similar high debt levels like South Africa and Argentina took 2 % or more hits to their currency values.  The correlation of the lira with other emerging market currencies hit a new high today, according to Bloomberg.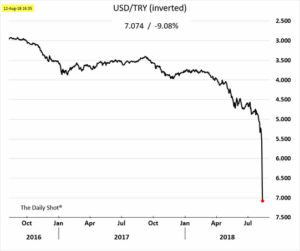 Sources: The Daily Shot, The Wall Street Journal – 8/13/18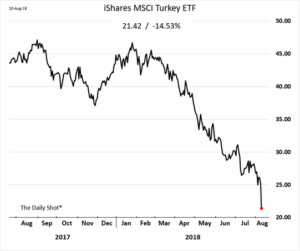 Sources: The Daily Shot, The Wall Street Journal – 8/13/18
Our President chose to lob an economic bomb at a country already reeling from a 40 % drop in the lira year to date, high inflation at 15.85 %, ten year bond rate of 20 %, and a corporate $210 billion net currency account deficit owed to foreign investors.
Investors are concerned that EU banks holding loans or positions in Turkish banks could be vulnerable to losses. The European Central Bank is concerned with exposure of banks in Spain, Italy and France.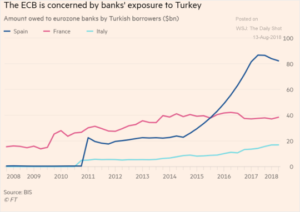 Sources: The Daily Shot, The Wall Street Journal – 8/13/18
U.S. banks do not hold many direct positions in Turkish banks or loans, but they do hold positions in EU banks in the three exposed countries.
The crisis was in the making, when President Erdogan took office in July after 15 years of rule declaring super powers to himself sending the lira into a flash crash.  Over the past month Erdogan insisted on keeping interest rates low, allowing inflation to get out of hand, and used foreign investment to build shopping malls and construction projects rather than invest in industry, productivity or critical infrastructure.  Today, the lira was falling quickly during the day, until its fall was steadied by Turkish central bank interventions, yet stock markets in U.S. were down with SPX losing .40 %, the Dow off by .50 %, and emerging markets down by 1.62 %.  All this financial uncertainty about loans, bank exposure, and foreign capital reserves has caused investors to hit the pause button to wait and see how officials around the world respond to the crisis.  The most critical question: can this financial crisis be contained to Turkey, Argentina and South Africa or will developed country markets be hit?
Next Steps:
We see economic bomb throwing via tariffs to gain supposed political advantage to secure the release of a pastor as a major mistake.  The added tariff on top of present tariffs on Turkey already in financial straits just exposed other emerging markets to investor and official scrutiny causing alarm and uncertainty.  Uncertainty is the big cloud growing stronger as world markets deviate from U.S. markets in the past several months.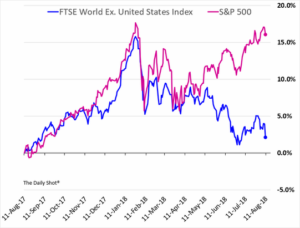 Sources: The Daily Shot, The Wall Street Journal – 8/13/18
This divergence won't continue, either the U.S. market will fall or the emerging markets will rise – with global economies slowing, currency weakness and tariffs it would seem that U.S. markets are likely to fall. Plus, the U.S. dollar strengthening versus emerging country currencies makes U.S. goods more expensive for global customers resulting in a reduction in U.S. sales.
Is this what the President wants; falling emerging markets eventually leading to the U.S. economy going into a recession? One crucial aspect of financial markets is that perception can become reality, just the perception that a country can't pay its debts, or a bank may fall is enough to cause investors to run for the exits.  The President by making an impulsive tweet into a fragile financial system will only lead to more uncertainty, falling markets and economic disaster.  Economically damaging a NATO partner like Turkey only plays into the hands of Russia in establishing closer economic and strategic ties. America has a military partnership with Turkey at the Incirlik Air Base, where over 5,000 U.S. airmen are stationed used for monitoring Russian military exercises and staging for operations into Syria and Iraq.  Undermining the economy of our NATO partner may create enough civil unrest to force us to leave the base. We need to recognize that our military presence around the world keeps countries safe for us and all companies to conduct business, otherwise markets shrink.  The The White House needs to think in terms of what their tariff and protectionist policies are doing to the economies of countries our companies want to sell products to.  If offshore prospective customers are in falling economies they won't have the money to buy U.S. products. So, how will the trade deficit be reduced? These poorly thought out short term trade policies need to be ended and sound long term, trade programs focused on building economies need to be implemented.  This Administration needs to follow the trade path of the past 50 years by both Democratic and Republican administrations.
Update: August 14, 2018 – President Erdogan declared the country is in an 'economic war' telling citizens to boycott American electronic products, sell dollars and euros to support the lira.  This tit for tat retaliation is exactly what we don't want to see trade relationships spiral into uncontrollably.  What if China uses nationalism to drive boycotts of U.S. goods?  The deadline for the U.S. imposing new tariffs is August 23rd we will watch the action with great concern. Economic nationalism will cause worldwide recessions and setup conditions for civil unrest. Just in, Bloomberg reports that Turkey has slapped tariffs on U.S. goods including a 50 percent tax on rice, 140 percent tax on spirits, and 120 percent on cars. Tensions continue to escalate out of control.