Photo: geneticliteracyproject.org
The financial mainstream media focus on policy declarations from White House policy spin masters like Larry Kudlow, Chief Economic Adviser to the President saying of the trade war, "it is trade dispute among family members."  Meantime, American farmer family incomes are being sacrificed as the first casualties of the trade war.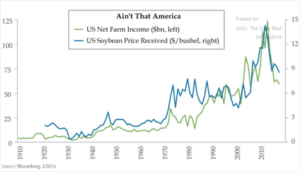 Sources: Bloomberg, U.S. Department of Agriculture, The Wall Street Journal, The Daily Shot – 7/6/18
As Net Farmer Income drops along with the price of soybeans, the Chinese are cancelling their contracts with U.S. farmers and buying soybeans from Brazil and other suppliers like Russia.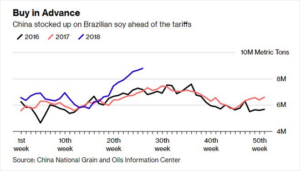 Sources: China National Grain and Otis Information Center – 7/5/18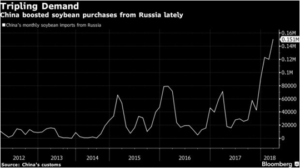 Sources: Bloomberg, China Customs – 5/18/18
It is a basic business reality that when customers go to other suppliers and secure contracts if the customer is pleased with the quality of new products they will stay with the new supplier.  Our farmers are being cut out of business they have been building for decades, and now their livelihoods are being sacrificed to charge on in a lose-lose Trump Trade War (TTW).  In the future, it will be difficult to impossible to get back much of the business farmers are losing as new suppliers become the incumbent.
Next Steps:
We need to stop being complacent about the costs and sacrifices of TTW, there are real costs being borne by farmers, businessmen and their families.  We agree with 1100 economists who sent a letter to POTUS imploring him not to use tariffs as a mechanism for trade dispute negotiation and resolution.  There is no evidence of trade wars solving trade issues, except for damaging the economies of all those countries involved, and in the case of the Depression setting the stage for WWII. The fact that the GOP Administration is minimizing the damage from their no strategy tariff program, is alarming and needs to stop.  Farmers did not ask to be sacrificed for the TTW, and all the other businesses and families being hurt by this disastrous trade policy. They need our support by making our concerns known to the White House and Congress.  We agree with Prime Minister Merkel who stated last week in regard to auto tariffs being renegotiated that any discussions should be pursued via the World Trade Organization in fairness to all parties.  For over 40 years the United States has supported building the WTO and using trade treaties to open doors for American businesses, now is not the time to use bullying, intimidation and threats as tactics for solving economic issues.