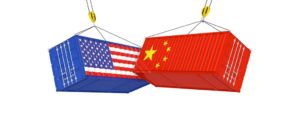 Image: knowledge.wharton.upenn.edu
The economist group letter to President Trump quotes passages from a 1930 letter that was ignored by government leaders at the time leading to a trade war and the Great Depression, many economists believe.
"Much has changed since 1930 — for example, trade is now significantly more important to our economy — but the fundamental economic principles as explained at the time have not", the economists declared including last year's Nobel winner Richard Thaler and former George H.W. Bush economic advisor Gregory Mankiw.   Economists in 1930 advised against the Smoot – Hawley act at the time causing a trade war and a disastrous economic downturn for all Americans.
The trade war with China has already begun as we noted in our April 23rd blog the Chinese have not stood back waiting, they placed at 179 % tariff on sorghum shipped from the US causing China bound ships to reverse course.  Soybean orders have been cut way back by the Chinese as well: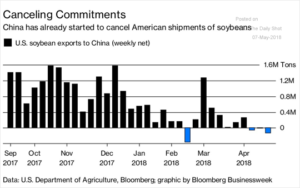 Sources: Bloomberg, The Wall Street Journal, The Daily Shot – 5/7/18
Corn contracts are in jeopardy as well in the Midwest as the Chinese threaten tariffs on those crops as well.  Corn farmers are already facing increased competition from Brazil and other countries undercutting their prices.
The reality is the Trump Trade War is on!  Companies and nations are already acting on the threats and in some cases the implemented tariffs that the present Administration has in a misguided manner put in place.
We do not understand why the White House is ignoring the lessons of history, their own constituents in the Farm Belt and 1100 economists in implementing a catastrophic policy that will hurt every American's pocketbook and many of our foreign allies.
Next Steps:
Our blog on April 2nd outlined two distinct factors that the Administration policy makers need to take into consideration:
"First, we need to understand how corporations, suppliers and customers respond to political uncertainty.  Corporations either buyer or seller are seeking certainty around first of all selling their products and second at the highest price.  Second, when our government starts picking winners and losers in the US economy and linking unconnected segments like sacrificing US agriculture for intellectual property theft by China from US high technology companies – then any economic shot is fair game.  Just the threat of tariffs on certain goods is enough to cause customers, in this case Chinese buyers of US agriculture goods to find other lower cost suppliers.  Once these buyers discover new suppliers with lower prices and similar quality they are likely not to switch back to US suppliers.  Sales for US agriculture companies are likely to drop as a result."
The solution is in working within the international frameworks of the WTO and our agreements with other nations to peacefully solve these economic issues. Sound economic policy is based on win-win agreements that put in place long term relationships that both sides can build their economic futures on. Plus, these are complex integrated trade issues and cannot be settled by blunt, prejudiced based ideas that history has proven are false.