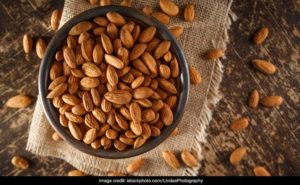 Photo: ndtv.com
Almond farmers in central California have seen the price for almonds drop 10 %, along with a steep drop in shipments the past several months.  The steep price drop is largely due to falling shipments to China and Hong Kong, along with a bumper almond crop.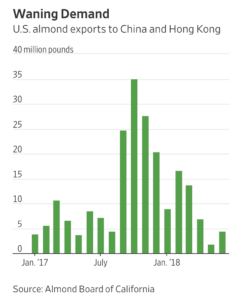 Source: Almond Board of California, The Wall Street Journal –  7/28/18
China has imposed a 50 % tariff charge on all U.S. imported almonds, and has closed a transshipment loophole that allowed U.S. almond shippers to avoid any China tariff by transferring the crop to carriers overland. Farmers have only pre sold 156 million pounds of almonds for shipment in the year beginning August 1st, half the 300 million pounds shipped in a similar 12 month period last year.
Last month, India slapped a 20 % tariff on U.S. almonds beginning August 4th.  India purchased over half the U.S. almond crop in 2017.  The tariffs and markets being closed to U.S. farmers continues to cascade against American suppliers.
Now, we can add almond farmers to the growing list of farmers hurt by needless Trump Trade War tariffs including: soybean, corn, sorghum and ranchers reeling from pork tariffs.
Next Steps:
We warned against the trade tariff approach months ago in previous posts, last week we were alarmed at the announcement of cash compensation to farmers of $12 billion to make up for losses:
"There is an even more ominous aspect to these subsidies is the idea of 'hunkering down' for the long term.  With no plan for ending the trade war except vague goals of 'fair deals' the Trump Trade War can easily get out of hand. The following analysis by Oxford Economics shows how a full-fledged trade war with China could cost the U.S. billions of dollars to the US economy and shave off 1 % cumulative GDP growth by 2020.  Needless to say, a trade war of this magnitude will trigger a recession which will be deep and difficult to turnaround. By creating angst with our allies and customers, it will be difficult to win back their trust and their business."
The trade war needs to stop now, the pause with the EU announced last week was a good start, more needs to be done with China.
"Reverse all the ill-advised, poorly throughout and threatening oriented tariffs.  Work through the WTO, which the U.S. helped to create, use other means to get more fair trade deals, work with our allies to focus on specific markets and opportunities without using myopic goals missing important data – like total trade deficit in goods and services not just goods. It is not too late, the armistice announced today with the EU on any new tariffs is a good start. Will the Administration come to an armistice with China? Considering how this Administration works,  we are not holding our breath – just hoping for the best but preparing for the worst."