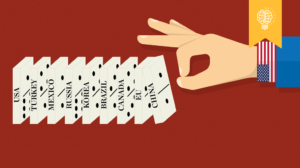 Image: 99getsmart.com
The Trump Trade War has cost corn, wheat, and soybean farmers over $13 billion in lost contracts and revenue already. As we have noted in previous posts, as China stocks up on crops from Russia, Brazil and other countries our farmers lose their incumbent status.   U.S. farmers have to go back to their customers now doing business with China and unhook that deal to write more contracts to replace the business they lost.   Our agriculture industry will be challenged by not being the incumbent supplier.
The Administration announced yesterday that the Department of Agriculture will begin offering direct cash subsidies to farmers impacted by the tariffs.  Farmers would be compensated based on the projected size of their harvests, they can begin signing up in September.  The direct payments by the government due to tariffs would be the first time ever by the Agriculture Department.  In addition to direct cash payments, the government will purchase surplus food products and distribute them to food banks, schools and other nutrition programs. The cash and surplus purchase program will cost taxpayers $12 billion.
We believe the cost to taxpayers is just the start. As China and other countries hunker down, as the Administration is buying time for its tariffs, more subsidies will be implemented.  Other industries in other sectors will ask for loss compensation in steel, aluminum industries and consumer products on the Administration's tariff list.
Next Steps:
POTUS is now compounding a disastrous trade war strategy with no exit plan by subsidizing his errors.  No, 'trade wars are not easy to win' as last May 1100 economists sent the President a letter admonishing him not to enter into a trade war.   Sen. Charles E. Grassley, R – Iowa, noted in a statement yesterday, "What farmers in Iowa and throughout rural America need in the long term are markets and opportunity, not government handouts."
There is an even more ominous aspect to these subsidies is the idea of 'hunkering down' for the long term.  With no plan for ending the trade war except vague goals of 'fair deals' the Trump Trade War can easily get out of hand. The following analysis by Oxford Economics shows how a full-fledged trade war with China could cost the U.S. billions of dollars to the US economy and shave off 1 % cumulative GDP growth by 2020.  Needless to say, a trade war of this magnitude will trigger a recession which will be deep and difficult to turnaround. By creating angst with our allies and customers, it will be difficult to win back their trust and their business.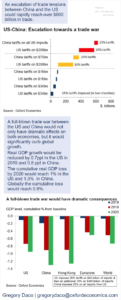 Source Oxford Economics, The Wall Street Journal, The Daily Shot – 7/24/18
Stop the trade war now!  Reverse all the ill-advised, poorly throughout and threatening oriented tariffs.  Work through the WTO, which the U.S. helped to create, use other means to get more fair trade deals, work with our allies to focus on specific markets and opportunities without using myopic goals missing important data – like total trade deficit in goods and services not just goods. It is not too late, the armistice announced today with the EU on any new tariffs is a good start. Will the Administration come to an armistice with China? Considering how this Administration works,  we are not holding our breath – just hoping for the best but preparing for the worst.