(Editor Note: Insight Bytes focus on key economic issues and solutions for all of us, on Thursdays we spotlight in more depth Solutions to issues we have identified. Fridays we focus on how to build the Common Good. Please right click on images to see them larger in a separate tab.)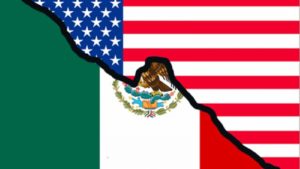 Image: hurd.us.gov
Last Friday, POTUS announced that he was considering just dropping the NAFTA agreement.  His announcement sent the Mexican Stock Market racing down with the fall continuing today: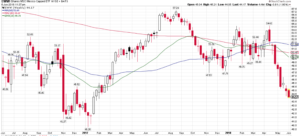 Source: Patrick Hill, The Progressive Ensign – 6/5/2018
When President Trump was elected in November of 2016, the Mexican market tumbled, then regained when it seemed the Administration would negotiate in good faith.  Then, late 2017 threats and bullying started with the latest swoon when POTUS wanted to just pull out of the agreement.
The administration continues to use a 'whack a mole' policy approach, even with Vice President Pence suggesting last week that the NAFTA agreement should be renegotiated every 5 years.  Trade agreements are complex, legal documents which business leaders, consumers and government policy makers depend upon in making economic, infrastructure and industry plans for 10 to 20 years into the future.  Corporations when they plan for building a manufacturing plan, are looking at government trade policies and trends over the next 10 years to determine whether a plant will be profitable or not.  Policy makers can't be changing the rules of the economic game constantly.
We are concerned that the anti-Mexico trade policies of the administration will continue to cause uncertainty, chaos and severe trade constraints driving the Mexican economy into a recession or worse.  Mexico is the second largest trading partner for the US.  States like California and Texas depend on exports to Mexico and will be hurt if the Mexican economy continues to slide: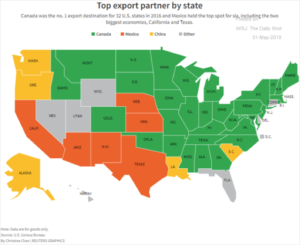 Sources: US Census Bureau, Reuters, The Wall Street Journal, The Daily Shot – 5/4/18
Mexico just announced today their first shot across the economic bow of the US.  Slapping tariffs totaling $3 billion on whiskey, cheese, pork and other products. A spokesman for the trade group Farmers for Free Trade commented on ongoing trade war economic missiles being hurled at each other, declaring that the new tariffs would have disastrous consequences for farmers, "Hog, apple, potato and dairy farmers are among those suddenly facing a 10 or 20 percent tax hike on the exports they depend of for their livelihoods. Farmers need certainty and open markets to make ends meet. Right now they are getting chaos and protectionism." Larry Kudlow, the President's chief economic advisor shared the latest negotiating strategy for NAFTA on Fox and Friends, taking a strong protectionist stand against a three nation agreement, 'preference now, and he asked me to convey this, is to actually negotiate with Mexico and Canada separately."
Next Steps:
We know from research that when the Mexican economy does better, immigration from our south of the border neighbor goes down.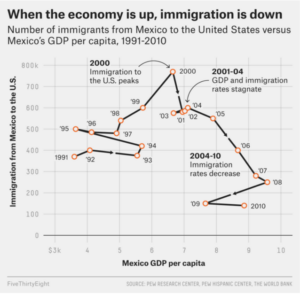 Sources: Five Thirty Eight, PEW Research, The World Bank – 2/28/17
The GOP administrations needs to start treating Mexico with dignity, respect and partnership – which they have earned as our southern neighbor and ally. When the Mexican people are prospering, they don't seek jobs in the US.  So, instead of withdrawing support for NAFTA which our farmers and other businesses throughout the US are profiting by, focus on the main issue which is the imbalance in autos, trucks, automotive parts and manufacturing as the chart below describes: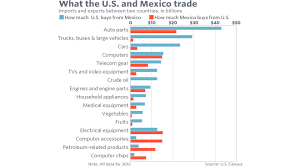 Sources: US Census Bureau, The Wall Street Journal – 6/2018
Let's start using evidence, facts and real insights in negotiating our agreements with our allies instead of bullying, prejudice and smear tactics. We recommended over a year ago, that the Administration, focus on the automative industry imbalance, and protect worker jobs and US businesses:
Tax companies that move jobs to other countries. For example, a company moves a $1 billion plant with a 1000 workers offshore, they pay a 10 % plant offshore tax or $100M, and $20k per worker or $20M penalty to be used for training and apprenticeship programs in the US. (Tax the action we don't want.)
Establish worker councils in corporations to make decisions jointly, ensuring apprentice and new job training programs are in place.
Offer incentives to keep plants here including fed, state, and local tax reductions, and training programs implemented in local universities and colleges.
Train US workers on advanced assembly and use of robotics in manufacturing to build increased productivity capability and reduce costs.