(Editor Note: Insight Bytes focus on key economic issues and solutions for all of us, on Thursdays we spotlight in more depth Solutions to issues we have identified. Fridays we focus on how to build the Common Good. Please right click on images to see them larger in a separate tab.)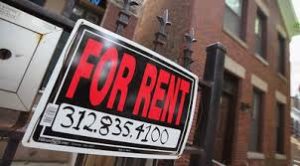 Photo: marketplace.org
Household formations have been trending down over the past 30 years from its peak reached after a continual increase since 1955.  More than a quarter of possible home buyers are unemployed, underemployed, saddled with student debt or living at home with their parents making home buying a challenge. The other possible household formation group is making such low income they are forced into renting as the only budgetary alternative.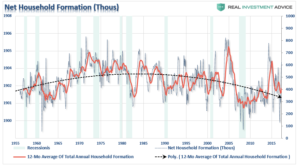 Source: Real Investment Advice – 7/13/18
The housing market has shifted drastically toward high end homes for the wealthy, not first time buyers, and multi-unit rental units for investment.  As investors look outside the stock market for high returns rental units have been an excellent income stream with income streams totaling $800 billion per year.
So, while wages for the 80% in income, non – supervisory workers have been stagnant; profits, stock buybacks, executive salaries and other financial gimmicks have provided the top 10 % with 90 % of national income since 2008.  In effect, we have become a nation of renters due to two factors: wages being held down, and inflated assets benefiting the rich.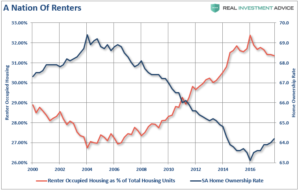 Source: Real Investment Advice – 7/13/18
Corporate executives do not make their stock price and profit targets by raising wages resulting in reduced profits.  Wages as a cost cut immediately into profits, which a CEO wants to stay clear of having to explain to the Board or shareholders.  Does it really make sense that workers are not getting wage increases in a job market with the lowest unemployment rate in 10 years? Until workers get enough countervailing power in wage negotiations worker wages are likely to stay stagnant. No, executives are allocating profits, offshore and tax cut funds to benefit themselves and shareholders while workers are left out of the economic feast.
Next steps:
We have outlined multiple reasons for lack of wage increases in earlier posts, the bottom line is executives don't want to give raises beyond inflation.  Proposals like Senator Cory Booker's Worker's Dividend Act to share stock buyback dollars with workers is a good start, yet the sustainable solution lies in corporate governance, where activities shareholders required management to give workers their fair share of profits; for example if executives receive a 5 % cut of the profits workers should receive the same 5 % as well.
To give first time home buyers a boost, we need to reduce student loan debt by re financing their rates to the rates that the Federal Reserve offers bank.  After all we are 'banking in the future' of our young people.  Where possible student debt could be forgiven for domestic service corps work or working with corporations who hire graduates to reduce their loans as part of the offer package.  Government mortgage  agencies need to support first time buyers with reduced down payment requirements and other incentives.  To incentivize home builders set asides of homes for first time buyers need to be established to create inventory from which a first time buyer can select their home.
Increasing household formations should be a top priority for policy makers and the wealthy alike.  When household formations are moving ahead, furniture, appliances, home improvement hardware, and thousands of product and services are purchased. Plus, when people own a home they have a piece in the future of their neighborhood, schools and community which will increase property values for all.