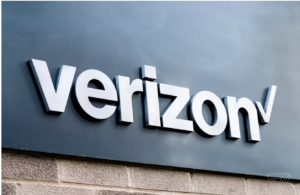 Image: theverge.com
During the Mendocino fire in California last month, firefighters using the Verizon service went over their data plan limit.  So, instead of helping to alleviate the problem, Verizon made it worse by throttling down their data rate to 1/200th until they switched to a new higher cost plan.  Plus, they made the firefighters do the work to switch plans – doesn't Verizon get the fact that the firefighters are a little busy saving lives and property?
Santa Clara County Fire Chief, Anthony Bowden explained, "Verizon representatives confirmed the throttling, but rather than restoring us to an essential data transfer speed, they indicated that County Fire would have to switch to a new data plan at more than twice the cost, and they would only remove throttling after we contacted the department that handles billing and switched to the new data plan,"   Bowden wrote up the incident to support a law suit filed by 22 state attorney generals to stop the net-neutrality policy from being implemented by the FCC for the major carriers.  Bowden noted that Verizon had throttled firefighter data rates in the past when fighting fires.  A company spokesman said the throttling was a 'customer service mistake', and they would try to respond without throttling in future firefighting crisis situations.
Version is a huge wireless company with over 30 % of the wireless market: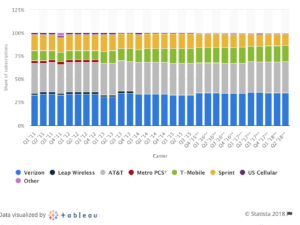 Source: Statista – 2018
By size alone they command significant market power over users.  With this market power comes community and public interest responsibility. When Verizon, Comcast, AT&T and others lobbied for a waiver of net neutrality provisions they said they could be trusted to protect the needs of the public and small internet users.  Clearly, Verizon can't be trusted to be a part of the community and put the Common Good over profits.
Next Steps: 
First, Verizon needs to make restitution to the Santa Clara County firefighters and any other group involved in fighting the fire, by giving a credit for any increased costs and to make sure there is a hot line in place to an executive who can cut through all the bureaucracy and do the right thing.  Verizon has demonstrated they are using people, even at the cost of lives and property to make a profit.  Last year, the communications giant announced a $5.4 billion stock buyback program until 2020 to goose their stock price resulting in soaring executive compensation and shareholder returns.  They could use some of this stock buyback money and help out all first responders!
Second, net neutrality provisions need to be restored so that common service providers are required by law to treat all users fairly no matter their size and not use predatory tactics like throttling to force users into upgrading plans. Verizon and and other common carries did not build the Internet, taxpayers did with DARPA (Defense Advanced Research Projects Agency) funds in the 1970s.  DARPA built a breakthrough set of communication and HTML linking technologies with a number of universities to establish the Internet channel backbone in the United States. The government built it, it is a public service and we should not be turning control over to private companies that are not serving the public interest.
It is about time huge corporations started solving the major problems we face in protecting the security of people and build the Common Good rather than being a major obstacle when the community is facing a crisis.
Update: August 24, 2018 – Verizon announced that it would not throttle first responders to wildfires on the West Coast including Hawaii.  The backlash was so strong from the Mendocino fire the firm had to respond. Too bad management did not take the opportunity to be proactive about supporting the Common Good.  We appreciate the late data rate support move by the company.