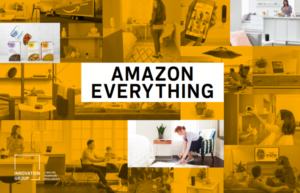 Source: e-brand.biz
An oligarchy is defined by Wikipedia as, "a form of power structure in which power rests with a small number of people".  One of the Elite is corporate tycoon Jeff Bezos, Amazon founder, who is thought to be the wealthiest person in the world with net worth estimated at $141 billion.  He wields great corporate power leading an innovative company, pioneering e-retailing when many said it couldn't be done building a $177 billion empire in e-Commerce, web services, grocery, and just about everything you can buy in a store you can get from Amazon.  Amazon owns 43 % of the e-Commerce market, and has been responsible for a complete transformation of brick-n-mortar retailing causing the loss  of thousands of jobs.  The company name is synonymous with going out of business as some store owners declare they have been 'Amazoned'.
Amazon has one of the largest lobbying forces in Washington, 94 strong: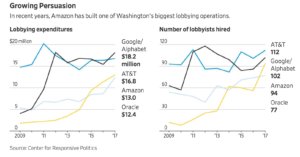 Sources: The Center for Responsible Politics, The Wall Street Journal, 6/20/18
Amazon spent $13 million on lobbying and is one of the top spenders on lobbying along with Google, AT & T and Oracle.
The Amazon corporate power juggernaut keeps rolling.  The e-Commerce giant owns 50 % of the book print sales market for publishers, with Barnes and Noble in the teens and independent book sellers about 6 – 8 percent. Ten years ago, independent book stores held a 30 % share of the book print sales market until Amazon drove them out of business, with convenience and not being required to pay sales taxes to states (though the Supreme Court just ruled last week that e-Commerce firms must pay sales taxes). Now, in an ironic twist the firm has 3 brick- n-mortar stores and is opening 5 more in 2017- so Amazon drives the competition out of business, with low cost prices and no taxes then starts opening brick n-mortar-stores.  Is that fair? In audio books Amazon owns Audible the No. 1 provider of audio books where last year listener – readers heard over 2 billion hours of programming.  The Kindle subscription business holds 14 % of the e-reader market and is the fastest growing segment increasing 4 % in 2016
Amazon is humongous compared to its competitors with brick-n-mortar stores: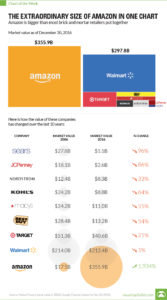 Source: visualcapitalist.com – 12/30/16
Amazon is larger than the next 8 competitors and it is killing their businesses by amortizing its cut rate prices with profits from its Business to Business cloud enterprise – Amazon Web Services (AWS).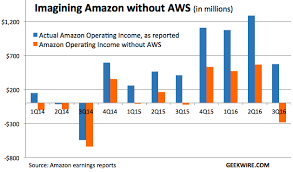 Source: Geekwire – 10/1/16
Without AWS Amazon would not be able to take profit from the B to B side of the business and fund the cut rate prices driving other stores out of business. While it may seem like this is capitalism 'creative destruction' at its best, this condition strikes us as unfair competition. Add a tax cut giveaway to corporations like Amazon, and the juggernaut keeps picking up speed at the expense of workers and democracy.
Next steps:
One Lobbyist Limit – The Company is a citizen according to the Supreme Court in Citizens United, then good it has one lobbyist representative to Congress.
Sunshine Contractor Monitoring – Amazon and the top 100 government contractors would have to contribute to a web site noting their business with the Federal Government, revenue from the contracts, agencies working with, number of government staff working with Amazon, Amazon staff size working on projects, where they are located, and all contacts with Congress, Executive branch staff – date, time, attends, discussion top, money involved, follow up. All these details would be available to the public on a web site 24/7.  These disclosure are a 'annual report' to the people of the US about what the top 100 contracts are doing for our federal government, and us and how they are contributing to our government and society goals.
Campaign Contribution limits – $2700 per corporation if they are a person, that is all a citizen is allowed to contribute, and the Supreme Court found corporations were citizens, so Amazon has the same limit as a citizen.
Corporate Reform – top 2 corporations in an industry sector must have a minority number of outside board members elected by all the shareholders. Employees can form 'councils' along the line of the German worker council models.  Salaries for executives would be limited to 50 times the average worker in the firm (consumer discretionary sector the average for CEOs is 350 times, Bloomberg, Feb 1 2018)., Stock buy backs need to end, or be phased out as they are artificially raising the price of stock on major exchanges by 20 – 15 % experts estimate just to line the pockets of executives and major shareholders, the funds are not going to wage increases, productivity investments or job training.
Anti – trust – Amazon needs to be broken up into a corporate web business – Amazon Web Services, and grocery business (Whole Foods never should have been approved) spun off. The e-Commerce business needs to stand on its own, plus we need to look for other ways to create fair- play markets possibly separating services from distribution,