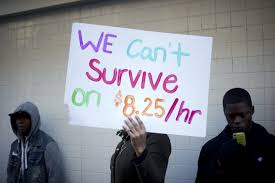 Photo: theaustintimes.com
While CEOs at the top 100 corporations received a 5 %  raise in average compensation  of  $15.7 million last year,  14 % of all workers have received no raises at all, higher than before the Great Recession. The recovery has not come for many workers.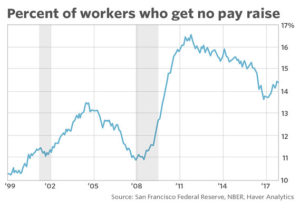 Sources: San Francisco Federal Reserve, National Bureau of Economic Research, Haver Analytics, Marketwatch – 5/29/18
Prior to the 2008 recession there were 11 % of all workers not receiving raises, still too high but much lower when considering the size in millions of the US workforce. After the recession companies were slow to give all workers raises as the rate rose to almost 17 % without raises.  Then, over time more workers are receiving raises as the economy recovered for the top 20 % in income. Still, 14 % is still too high.  The Federal Reserve economists note that the no raise rate would have to drop to 12.5 % or so for enough wage pressure to cause a move from the present stagnant 2.5 % to increase to 3 % and cause wage push inflation.  The fact the number of employees not receiving wages is actually going up is a concern that wage raises may actually fall or stay the same.
Next Steps:
We continue to see the extreme inequity of executives and professionals continuing to receive raises, for many twice the 2 % inflation rate versus workers. The reality is that employees just do not have the same wage power that they used to. We have previously discussed the combination of factors that contribute to extreme lack of wage power for workers including: lack of union representation, automation, fewer corporations due to mergers reducing the number of jobs,  low wage H1-B visas being approved,  using profits for stocky buybacks instead of investment in productivity increases, Internet recruiting nationwide and worldwide for some positions, and the shift to outsourcing jobs and the gig economy.
We recommend the following actions be taken by Congress and Corporate Leaders:
Place Workers on Boards– as Germany has so effectively setup, engaging management with required representation of workers on Boards.
End Outsourcing– corporations would pay 50 % tax on each job moved overseas making the move costly, encouraging corporations to move jobs to low cost or inland areas of the US, or innovation economic zones (special tax geographies) and to invest in worker training to receive training tax credits.
End Low Cost H1-B Visas– the practice of importing inexpensive labor to drive down wages in US markets would be ended.
Offer Lower Taxes on Repatriated Funds– only if the profits from overseas are invested in productivity actions, increasing wages of workers (not executives), reducing costs or innovation. Stock buybacks or dividends would be prohibited.
End Stock buybacks– these funds are totally wasted, mislead investors on earnings reports and only serve to increase compensation for executives and shareholders. These funds are better allocated to increase worker wages or increase productivity so workers can receive higher wage increases.
Breakup Oligopolies– breakup market concentrations in key sectors: information technology, banks and financial services, health insurers, airlines, hospitals and clinics, entertainment, media and distribution and others as deemed in the public interest.
Balance Job Market Process– require companies over 100 employees to offer information on their website for contacts, phone numbers, job listings with identified contacts, and to let the candidate know the status of his consideration, and candidate introductions held monthly for F2F communication.
Balance Worker and Executive Pay– tax corporations 25 % surcharge on any corporate income where any executive makes greater than 150 % than any the average worker wage – this would force executives to share their income with workers while not increasing costs. End federal tax deductions on corporate income taxes for executive stock compensation above $1 million. End golden parachute packages by taxing 50 % of every dollar received above $1 million. Severance packages for workers would have to be in proportion to the highest executive package ie, executive receives 10x of monthly salary a worker would receive 10x of his/her monthly salary.
Fund Worker Training and Increase Wages – for each robot employed, the corporation would be required to offer training, skills development for the displaced worker to find a comparable job within the company or outside. Where automation software or technology is deployed 10 % of the realized cost benefit would be used to raise the wages of all workers in the company.