(Editor Note: Insight Bytes focus on key economic issues and solutions for all of us, on Thursdays we spotlight in more depth Solutions to issues we have identified. Fridays we focus on how to build the Common Good. Please right click on images to see them larger in a separate tab.)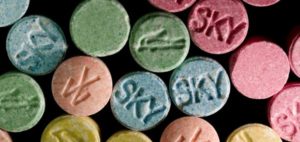 Image: thetab.com
The Opioid Epidemic is devastating for our young people.  The size of the opioid addiction death wave is so high that it is leading to a sharp decrease in the size of the 24 – 54 year old labor force group.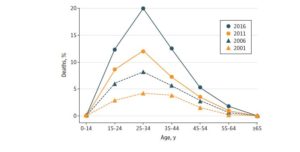 Sources: JAMA Open Network, Marketwarch – 6/7/2018
A paper recently published in the Journal of the American Medi­­cal Association found that 20 % of all Millennials deaths in 2016 were caused by opioid overdoses.  From 2001 to 2016 opioid deaths have increased by 292­­ %.  Experts believe the dip in the size of the 25 – 54 year old group is in part caused by the opioid epidemic compared to other developed countries.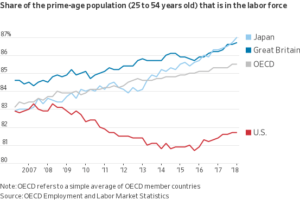 Source: OECD Employment and Labor Market Statistics – 6/7/18
A comparison to OECD countries finds the U.S. labor force in the key mid-career 25 – 54-year-old group at 5 % less, which converts to millions of our young people left out of the labor force. When our labor force is not growing in this key age segment we are in store for a continuing decline in GDP growth, standards of living and few people to support our retired population. The total labor force even with the recovery since 2008 has been dropping to a 10-year low of 63 % overall: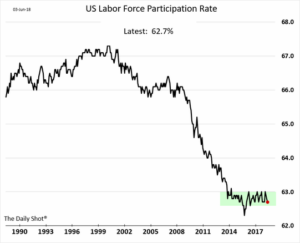 Source: Department of Labor, The Wall Street Journal, The Daily Shot, 6/3/18
Certainly, more than the opioid epidemic is contributing to our low labor force participation rate including: companies automating many jobs so they are not hiring more workers, workers leaving the work force due to not finding work, a skills mismatch between job openings and candidates with the right skill set and the baby boomer population aging into retirement.
Next Steps:
The opioid epidemic strikes hardest in our Heartland as we recommended in an earlier blog on Heartland Development Centers that among other development investments to fund mental health, addiction and counseling services to help our young people in rural regions of the Midwest and South to return to active productive lives. Every day, families are suffering from the drug addiction crisis and our economy is suffering along with our young people.  Our Congress, corporations, non-government organizations, government and health services groups need to establish a partnership to target the problem of drug addiction head on, with a major funding commitment, the latest strategies in drug rehabilitation, and job training programs which include high quality apprenticeship skills development leading to good paying jobs.