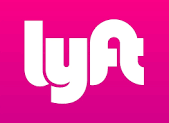 Image: lyft.com
Lyft recently announced that it will be purchasing carbon offset credits to be used to make riding in Lyft cars carbon neutral. John Zimmer, Lyft, co-founder noted in a Medium post that in 2017 when President Trump announced the US was leaving the Paris Climate Agreement that Lyft was joining many other companies in We Are Still In, to declare as an alliance their commitment  to protecting the environment.  The group started by Michael Bloomberg brings state and local governments, businesses, universities and colleges representing 120 million Americans and $6.2 trillion of the economy affirming their commitment to the Paris agreement.
Zimmer outlines a bold effort with multi-million dollar investments in carbon control or emissions projects near major markets in Ohio, Michigan, and Oklahoma. The $11 billion ride sharing company declares, "your decision to ride with Lyft will support the fight against climate change." The ride hailing company sees a future where all their vehicles are electric and carbon emission free – as the race is on toward electric cars and possible autonomous rides.
We applaud the move by Lyft, taking on corporate social responsibility for the millions of tons of emissions that Lyft cars are spewing into the air every year.  Some studies show that ride sharing rather than reducing the number of car rides people take, they actually are increasing because using the app is so easy and the cost relatively inexpensive. So, the move and commitment by Lyft to take responsibility for our environment is a key move we expect to see from every company that adds carbon emissions to the atmosphere.
Here are examples of the carbon footprint of various types of cars and transportation systems: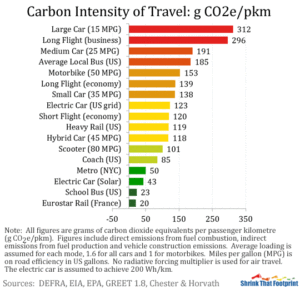 Sources: DEFRA, EIA, EPA, GREET, Shrinkthatfootprint.com – 6/7/18
Clearly the combination of solar with electric cars is promising along with public transit like the school bus or Eurostar rail.  We need to make carbon emissions emitted by all businesses a priority in government policy transparency to show consumers and investors how businesses are contributing to carbon emissions and what they are doing about the problem. The Lyft Green Cities Initiative demonstrates the commitment by Lyft to take responsibility for our environment that we expect to see from every business as they all contribute carbon emissions to the atmosphere.