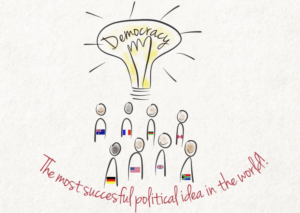 Image: civicsacademy.co.za
Memo
To: Oli Garchy, CEO, The Elite
Subject: Meeting – Make America a Democracy Again
Time: Lunch
Place: The Lawn in Front of the Lincoln Memorial, Washington DC (It helps to have Honest Abe watching over the mixed group)
Date: Soon…before it's too late.
Oli,
Ok, we recognize you and your team since Ronald Reagan have built an Oligarchy that stands out (not outstanding for the 90 %) as a model for the history books, based on government statistics:
1. President is a billionaire (first one) – and holds title to all his properties while in office, making money while in office (first time)
2. Cabinet of largest number of billionaires in history of U.S.
3. Corporate tax rate lowest in 50 years
4. Corporations have the most cash ever sitting in banks and offshore shelters at over $1 trillion
5. Top 1 % taxes are the lowest in 50 years
6. Top 1 % received 90 % of income gained since the Great Recession
7. The 80 % working class real wages have declined in the last 30 years – while CEO pay is 300 times the average worker's
8. Home ownership is at lowest level in 40 yrs – renting at the highest level in 15 yrs (you'll own more residential real estate than ever)
9. Student debt highest ever at $1.5 trillion – because:
10. Spending by state and federal government on public education secondary thru higher education is the lowest ever as per cent of GDP
12. Healthcare services costs more per person in US than anywhere in the world with life expectancy lowest of all developed countries – due to all the built in middle profit layers of insurance, drug price gauging and stock buybacks                              13. Stock buy backs were at the highest level ever last quarter $431 billion, not one dime to employees or workers directly in wage increases
14. Last year had the highest average global temperature, yet the administration wants to end car emissions standards by California, drill for more oil on the coasts – fossil fuel executives are getting what they want and more                                           15. Tax receipts from U.S. corporations hit a 75 year low                                      16. The Top 1 % have 40 % of all U.S. wealth, the highest concentration since 1929
You've wrapped Congress around your little finger with the Tax Cut bill where 70 % of the tax cut proceeds went to executive salaries, stock buybacks, and dividends, very little into research and development, increasing productivity or job training.  You promised to raise wages and very few companies did.
The American people care more about the environment and its stewardship then you're team, 60 % in a recent Pew Research poll say that preserving the environment is more important, even if there is an economic cost.  Oli, think about it, your profits won't last long if your customers are unhealthy or dying due to pollution of the water, air or land.
Professors Gilens and Page at Princeton and Northwestern reviewed opinion polls versus legislation passed over the past 30 years and found of 1779 laws passed 90 % did not support popular opinion, seems you own Congress.
Your 30 year old oligarchy has come at great cost, look at the debt increased by a magnitude from the Tax Cut you wanted and the public did not: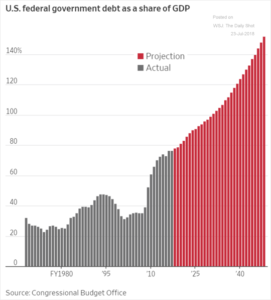 Sources: The Congressional Budget Office, The Wall Street Journal, The Daily Shot – 7/23/18
You've just mortgaged your children and our children's future for good jobs, owning a home and good health care just to give you and your friends a huge tax cut.  You and your team have the lowest corporate tax cut on record, but at great cost!
Oli, here is the issue for your team; without a thriving Working Class the value of your assets will go down.  Consumer spending will spiral down unless the Working Class get a fair piece of the economic pie.  When consumer spending goes down, your businesses begin losing money, their value drops and if the spiral keeps going like it did after 1929, you could lose everything.
The way to build a Working Class that you need is via a democracy – remember that from your textbooks.  It looks like this: a government 'by the people, for the people and of the people' – Lincoln had it right.
Think about it Oli, meet with us before it is too late.   In the future, there maybe hostility with the wealthy elite, but there is still time.
Next steps:
How about lunch?  How about our people meeting with your people? Our folks; Senators – Warren, Sanders, Booker and Harris, Representative Pramila Jayapal, Nick Hanauer, and Robert Reich.
Let me know who on your team you would like to invite, maybe the Koch Brothers, The Devos – as couple, Steve Mnuchin, Wilbur Ross, and five more would be a good size group.
Our luncheon wrap up takes place in the Jefferson Memorial where on the south east portico Jefferson observed we must make progress together:
"I am not an advocate for frequent changes in laws and constitutions, but laws and institutions must go hand in hand with the progress of the human mind."
Please read our posts on the Common Good in a Democracy as a refresher on what it is and how we all need to build it again. Frankly, Oli, the Common Good seems lost right now, yet it provides the beacon to keep the ship of state on course for all the people. We need to work together to build the Common Good. Let's – Make America A Democracy Again.