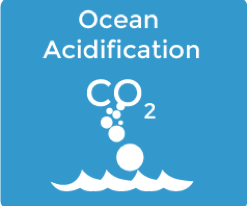 Image: see.systemsbiology.net
Global ocean acidity has increased by 30 % over the past 200 years and is expected to increase by 150 % by 2099 to the highest level in over 20 million years.  About 25 % of the carbon dioxide in the air is absorbed into the ocean.  For carbon organisms like algae they will grow increasingly prevalent yet for calcifying organisms like oysters, lobsters, clams, sea urchins, corals and others they will lose the ability to grow and reproduce.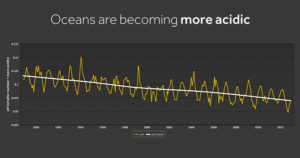 Source: WXshift
Three and one half billion people rely on the ocean for food. It is of huge consequence to have the oceans of the world become so acidic that the sea cannot sustain ocean life nourishing billions of people.
So, what is being done to reduce ocean acidification?  Certainly, efforts at reducing global warming are having an impact in the ocean specifically. There are some intelligent solutions being developed that would immediately improve shell organism survival.  The Pacific Northwest has a $200 million shellfish industry for export and shipping to West Coast cities.  Baywater Shellfish, west of Seattle, is having trouble growing geoducks, oysters and clams for market due to increased acidification of the water causing the shellfish to lose nutrients they need to grow and survive.  However, Oregon State University researchers working on an solution have discovered that eelgrass growing near the shell fish farms can lower the acidity in the water through photosynthesis absorbing the carbon, and pulling it from the water. This process allows vital nutrients to become available to the shellfish.  Eelgrasses can be planted in oyster farms or near shellfish hatcheries to provide the necessary lower acidity levels to nourish the shellfish.
The ocean covers 70% of our planet and provides food for 3.5 billion people making it crucial to human existence.  We have a stewardship responsibility to reverse the damage we are causing by human activity to preserve the oceans for future generations.  Cleanup of the ocean is a top priority for all of us and businesses too, as business success in the future assumes access to safe, clean, reliable water supplies and ocean environment.