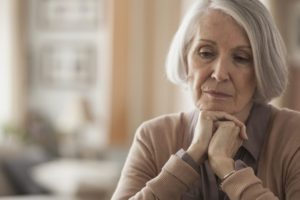 Photo: pbs.org
The grand plan by financial services companies thirty years ago was to have Baby Boomers invest in 401k matching plans offered by their employer to build a secure retirement nest egg.  The 401k plan funds would be invested in the stock market. Companies would eliminate their defined benefit pension plans thereby reducing their retiree costs and transfer the savings responsibility onto the worker. The reality is that worker saving just never happened.  Since 1970, 90 % of pensions have been replaced by 401k or IRA plans. Unfortunately, many Americans raided these plans to pay for living expenses during the Great Recession
A Wall Street Journal analysis showed that 40 % of all households headed by people aged 59 -70 lack sufficient financial resources to maintain their standard of living during retirement. The situation is due in part to lack of saving in 401k plans and general savings.
Sources: Center for Retirement Research at Boston College, The Wall Street Journal – 6/22/18
Adding to the savings challenge, over the past 10 years incomes have stagnated making it extremely difficult for workers to put away more money into their 401k or savings plans.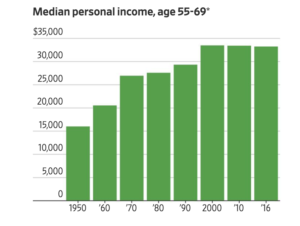 Sources: Urban Institute analysis of Census Bureau data, The Wall Street Journal – 6/22/18
Consumer debt has soared for auto and student loans, further squeezing their ability to save. The combination of being left on their own to manage their retirement savings, limited matching from corporations not matching pension income streams and debt means that households are not saving enough to maintain their standard of living.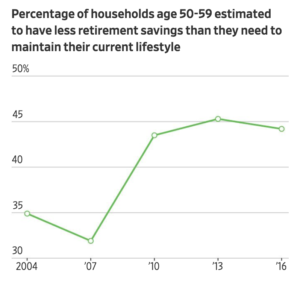 Sources: Center for Retirement Research at Boston College, The Wall Street Journal – 6/22/18
The situation defaults to retirees relying on government sources completely for retirement income, working longer than they had planned or gaining assistance from children.  While, funding help from children may work for temporary bridge loans, ongoing assistance will hurt their children's ability to save as well, causing a snowballing effect on future saving.
Next Steps:
 From our previous analysis on the retirement crisis:
 "Our politicians have designed a failure prone retirement system allowing corporations off the hook providing full defined benefit pension programs with professional management. Instead, 401k employee and employer match defined contribution programs were created where the individual is responsible for investing retirement funds safely. The present retirement program is a patchwork of 401ks, IRAs, Roth IRAs and SEP programs for small business. "
We continue to see many retirees at or below the poverty level:
"Today, Social Security only provides a $12,000 a year benefit to the average retiree. Yet, Social Security provides 80 % of the benefits that 40 % all retired people depend on.  A Retirement Savings Account would have as a core principle that the combination of Social Security and worker's savings provide at least a guaranteed income at the poverty level at age 65."
Social Security income is particularly difficult for women who made less income working. In 2014 women received on average $4,500 less per year than men in retirement.
Our recommendation is for a single Retirement Savings Account:
"Funds deposited by workers into their Retirement Savings Account would be tax deferred up to $40,000 per year until age 65 similar to a traditional 401k today.  Most workers will see a lower tax rate at retirement as this provision allows for lowering the cost of saving for retirement during high salary tax years. Corporations contributing to a workers' Retirement Savings Account would be allowed up to a 50 % corporate tax deduction on the matching dollar amount to incent companies to contribute.
There would be no cap on total funds added to the Retirement Account by a worker.  Workers would be allowed to obtain a medical or education loan with their retirement account as collateral but only up to 10 % of the value, which if defaulted and not paid back, would be paid back on a pro-rated basis by a Social Security deduction beginning at age 65.
This Retirement Savings Account proposal meets 12 core principle requirements by the Retirement USA, a Washington D.C retirement advocacy group including: universal coverage, secure retirement, adequate income, shared responsibility, required contributions, pooled assets, payouts at retirement, lifetime payouts, portable benefits, voluntary savings, efficient and transparent administration and effective oversight."
The crisis for our retirees continues to worsen as Congress does nothing to look at the root causes of the income challenge. We need to develop innovative solutions to make the golden years for our senior citizens secure now.