(Editor Note: Insight Bytes focus on key economic issues and solutions for all of us, on Thursdays we spotlight in more depth Solutions to issues we have identified. Fridays we focus on how to build the Common Good. Please right click on images to see them larger in a separate tab. Click on the Index Topic Name at the beginning of each post to see more posts on that topic on PC or Laptop.)
Image: consumersunion.org
The United States healthcare system is an expensive healthcare system compared to the OECD countries that spend 41 % less per person as a percent of GDP with a 4 year higher life expectancy rate.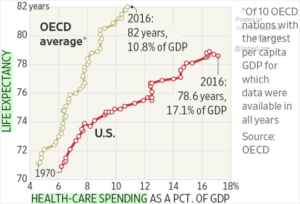 Sources: The Daily Shot, The Wall Street Journal – 10/1/18
As U.S. spending continues to increase life expectancy rates are stagnant, simply not improving.  Note that while OECD spending continues to grow at a much slower pace the life expectancy rate continues to climb. Americans are not getting the health care system performance that our European sister countries are achieving.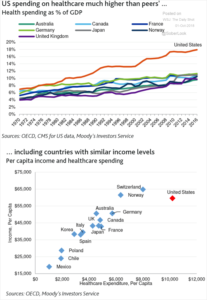 Sources: OECD, CMS – US, Moody's Investors Services, The Daily Shot, The Wall Street Journal – 10/1/18
Even when looking at similar income level countries the cost difference is highly apparent in cost per capita.
What are OECD countries doing that the U.S. is not doing?   For starters they do not have a private health insurance system which adds a profit motive to treatment, triages services to the higher income people and increases drug prices to consumers.   Administrative costs in the U.S. are 8 % of the total healthcare spending versus the OECD countries which range from 1 to 3 %. One reason for the high administrative burden is administrative hiring was 650 % more than hiring of health services workers since 1970. Generalist physician salaries are significantly higher in the U.S. by 50% compared to developed countries. Drugs in America cost twice the average prices in comparable developed countries.  The drug costs are distorted in the U.S. largely due to price controls in European countries so drug manufacturers charge as much as they can to U.S. providers and patients to make up the difference. Finally, another key reason is about 10 % of the U.S. patients are not covered by insurance.  Which means they do not receive care from birth, let medical issues fester and go to emergency rooms for all their care (as U.S. law requires hospitals to serve all who come regardless of insurance). A study of the healthcare delivery system in Philadelphia showed that overall healthcare costs in the city could be reduced by 20 % if patients that needed care had services offered in doctor offices covered by insurance.
Next Steps: 
We have recommended in previous posts that we have one insurance system in the U.S. as other developed countries.  Administered by the Health and Human Services department, a health account would start as soon as a baby was born.  Contributions by individuals, their employer and the government would go into one account.  Private insurance could continue in those years where a worker is on the payroll of a company with benefits.  In the event the worker is between jobs he or she would be covered by the government supported part of the plan.  There would be only one formulary  for drugs, and schedule for treatments and procedures.  The administrative overhead could be cut to the 1 to 3 % range that other countries enjoy.  Staffs in providers offices dealing with insurance idiosyncrasies and byzantine rules could be cut by 75 %.  Drug companies would be prohibited from implementing stock buybacks which would make billions of dollars available to cut prices and innovate new medicines instead of lining the pockets of executives.