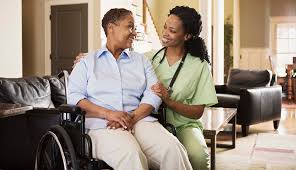 Photo: aarp.org
There are 3.5 million direct health care workers in the workforce today. The Bureau of Labor Statistics estimates that another 1 million direct health care workers will be hired by 2024.  Direct healthcare workers include mostly all the assistant positions except a registered nurse: personal care workers, home health aides, and nursing assistants.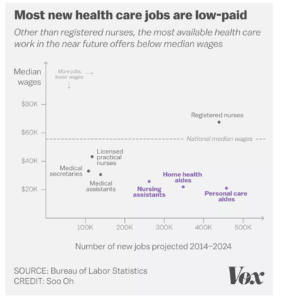 Sources: Bureau of Labor Statistics, Vox – 7/3/2017
Direct care workers often receive a wage below $15.00@hr.  About 90 % of  personal assistants receive $30,000 or less per year in income.  One reason wages are so low is that 70 % of all long term care costs are paid by Medicare and Medicaid.  These agencies reimburse care providers on a fixed cost basis. There is another reason. A high number of administrators are being hired rather than physicians, nurses or direct care workers.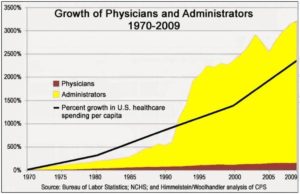 Sources: Bureau of Labor Statistics, National Center for Health Statistics – 2010
When viewed from the perspective of healthcare spending per capita, administrator hiring was about 650 % more than overall per capita services.  Healthcare is a lucrative sector for business, so they focus on hiring more administrators and managers rather than nurses and direct care workers. Healthcare providers can take the wages they pay too many administrators and give caregivers the wages they need to take are of themselves and their families. The byzantine way the healthcare industry is structured with insurance companies between the providers and workers when we only need one government agency to manage insurance is a good example.  Most providers have who departments devoted to interacting with insurers and Medicare staff, which expensive to staff with specialized expertise due the idiosyncrasies of insurance policies.
Next Steps:
We clearly need to use computer systems and software to reduce the number of administrators and overhead in the system to the norm of per capita costs.  End the use of private insurers except as contractors to a single government agency, use a standard reimbursement procedure with no middle layers of pharmacy benefit managers and end go to middle managers for insurance companies.
In previous posts we have recommended:
"The core need is to provide low cost effective health insurance for all people (like all developed countries do), so when illness strikes patients receive high quality care and become healthy again. Why do we need multiple insurance payers – private and the federal government?  If we were running a corporation we would not have two accounts payable departments?  We need to transition to individual health accounts that stay with the patient regardless of employment status beginning at birth.  Here are ideas on how this transition could work.
Complete Analysis of ACA – We need to learn from the public exchanges that work – California's public exchange has been quite successful covering new patients, and keeping costs reasonable for low income patients.   Yet, we also need to look at why those exchanges like Oregon are not working well and expensive. Let's summarize the analysis and publish the results so we can build a consensus around the solution, extending what works and recommendations for changes.
Priority One Cover the 9 Million Uninsured – those not covered by insurance need insurance now, we need to figure out how to cover 100 % of our citizens immediately. Offering a public option on the exchanges for basic health services and drug coverage would be a good start.
End State by State Coverage – state pools not large enough to make insurance work for all.  With 360 million people in the US we can make our health insurance pool work to reduce costs. Plus, legislation needs to be passed to reverse the Supreme Court decision to allow states to opt out of subsidies.  For example, Texas opted out on $10 billion subsidies leaving many low income families without insurance or very high premiums they cannot afford.  Interestingly, a few months ago I talked with a small business office manager in Texas, she complained that ACA was not working (her firm did not offer health insurance), for her hourly staff. Obviously, one reason is that Texas opted out of the subsidy program. Using a national pool would help to spread out the disparities between regions in terms of the rising cost of insurance versus stagnant wage increases.
Create Individual Health Accounts – funding can be setup via a payroll tax, accrued to a personal national health insurance account when working (if they don't have employer options – to be transitioned later). For individuals or families below the regional poverty level they would pay no health payroll tax. For those individuals who are not contributing to their health account, the federal government would fund a basic health and drug account by progressive taxes on wealthy individuals over $250k and the increase taxes on corporate profits. Corporations can offset the increased tax, by offering lower cost insurance, medigap plans or encouraging their employees to move to the basic national health insurance program.
End COBRA – by setting up health accounts regardless of being employed, there is no need for COBRA plans.  Otherwise, for those unemployed to continue coverage often they have to pay soaring COBRA premiums up to 400 % of their employed premium rate.  For this author, two major illnesses occurred when I was unemployed, often with the stress of being unemployed is the time we need health insurance.  COBRA is another example where health insurers are charging outrageous rates to those who need the insurance badly but can least afford it. For the unemployed they could rely on basic health coverage in their individual health account.
Transition Employer Plans – convert employer plans over 4 years into a national personal health care account. Rollovers can be accomplished in a similar way to 401K to IRA rollovers (without the penalty for early withdrawal).  Ending employer programs will cut a layer of administration in benefits departments that more rightly belongs to the individual regardless of employment status.
End Penalties For No Insurance – we want to to tax behavior we don't want and support or subsidize behavior we do want.  All Americans who have Social Security numbers should be able to enroll in a personal health insurance account, if they do not have a employer sponsored program.  Parents can apply for a SSN for their child to be covered.  A public insurance option should be offered to all those families not in employer sponsored programs. The public option run by Medicare is a basic health insurance program run similar to basic Medicare for seniors with medigap plans to cover the other 80 % of coverage needed.
Use the Medicare Drug Formulary – we don't need multiple formularies and tiers of drug coverage. Medicare already provides one formulary which should be used as the industry formulary.  We need to empower Medicare to negotiate all drug prices and health procedures with providers with provision for regional differences on procedures.  A critical medication list can be created by Medicare for life threatening (Epipens) or serious chronic conditions (diabetes) capped at 5% profit for drug manufacturers.
End Stock Buybacks by Insurers – insurers need to end stock manipulation and the waste of stock buybacks. Companies like Aetna have spent billions of dollars on stock buybacks which would go a long way to reducing premiums and costs to patients.
Pricing needs to be transparent – similar to a mortgage disclosure statement. The explanation of benefits and drug claim form needs to be clear about the provider or drug price, any discounts and rebates, the price the insurer is paying, the price the provider is actually requiring, the price the pharmacy is paying and the exact out of pocket cost to the patient, with patient accruals in out of pocket and co pays toward insurance coverage.
Do it Without Waiting – let's get progressive investors to back drug manufacturers that adhere to drug cost reasonable, critical med list, transparent pricing innovative insurance, publicize get more investors on board. Work with Wall Street to setup an ETF stock to focus on companies adhering to the progressive national health programs demonstrating good returns.
Awareness of What Works – A media campaign with surrogates, leadership in Congress, interest groups like the AMA, and the insurers to bring the American people along on the solution journey and to put pressure on Congress to pass the necessary legislation.
Health insurers would focus on medigap plans, taking risk out of innovative drugs to help speed them to market, vision and integrative medicine, personalized medicine, telemedicine – taking their layer out with reduce costs dramatically. They can be contractors to Medicare for transition to health accts. Or insurers can be contract administrators to Medicare, keeping costs low and utilizing their expertise.
Lets establish a lifetime health insurance program that provides good quality care, and low cost medications for all Americans."