(Editor Note: Insight Bytes focus on key economic issues and solutions for all of us, on Thursdays we spotlight in more depth Solutions to issues we have identified. Fridays we focus on how to build the Common Good. Please right click on images to see them larger in a separate tab. Click on the Index Topic Name at the beginning of each post to see more posts on that topic on PC or Laptop.)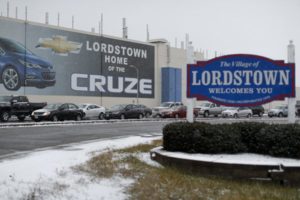 Image: GM Lordstown plant to be closed – gmauthority.com
Yesterday, GM announced a series of plant closings and layoffs of 15,000 workers in North America.  GM attributed the need to shift its focus to electric car development, trucks and SUVs that consumers were buying, as sedan sales are falling.  Actually, auto sales worldwide have been dropping for the past year.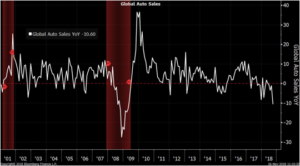 Source: Bloomberg – 11/27/18
Jesse Colombo, analyst at Clarity Financial notes that while GM's announcement focused on electric car development the plant shutdowns and layoffs really were driven by of slowing auto sales.  The auto market has been shifting rapidly with the development of driverless cars, ride sharing reducing the need to own a car, and urbanization causing policy makers to fund more public transit. The auto maker announced that it will end production of the Chevy Volt electric sedan with sales falling short of targets. GM has targeted gig economy drivers for ride sharing companies like Uber and Lyft by offering an on demand service for the Chevy Volt at $225 per week in Austin.  It is not clear what will happen with this on demand service marketing beta test with Volt production being halted.  GM has partnered with Lyft, and made a $500 million dollar investment in the ride sharing company 2 years ago.  Thus, GM has made some investments in key new markets and technologies, yet is behind in adjusting to sedan sales which fell by 11 % in third quarter.
At the same time the auto market is undergoing rapid change, GM executives have been taking care of themselves as a first priority.  Wolf Richter, editor of the Wolf Report blog reports that GM spent $13.9 billion in stock buy backs since 2014.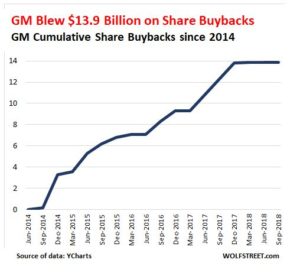 Sources: Wolf Richter, Wolfstreet.com, Y- Charts, Marketwatch – 11/27/18
GM stock purchases took shares off the market to reduce supply, while expecting stock demand would move the share price up.  However, as Richter notes GM share price has actually fallen 10 % in that four year period. So, much for boosting the price of shares to pad the executive stock compensation plan.  Instead of investing in new technologies, research, new plants, employee training, increasing wages and other key transition programs GM completely wasted $13.9 billion dollars.  Poor management judgement is now causing 15,000 workers to lose their jobs in the U.S. and Canada.  While we will not know over the last four years if good business investments would have prevented all the layoffs it is certain the economic damage to Midwest and Canadian communities could have been significantly mitigated.
Next Steps:
Goldman Sachs estimates that S & P 500 corporations will complete $1.0 trillion dollars in stock buybacks this year.  One trillion dollars will be wasted by U.S. corporations as productivity investments have lagged over the past 5 years, and average real wages have been stagnant for the 80 % in income since the Great Recession.  As the GM example demonstrates, besides hurting employee wages, making U.S. companies less competitive and inflating stock prices now workers are losing jobs due to executive mismanagement and myopia on stock price.
Prior to 1982, the Securities Act of 1934 held that stock buybacks were a form of 'stock price manipulation' and were not allowed by the SEC.  This policy was overturned by an E.F. Hutton executive, John Shad as SEC Chairman appointed by President Reagan.  He created a 'safe harbor' policy where corporations could purchase their own stock, only a certain times during the trading day, with disclosure quarterly and blackout periods prior to earnings reports. Corporations have used buy backs since then but stock buy backs took off in 2015 to $695 billion and almost doubled to $1 trillion for 2018.
We recommend an end to the stock buyback safe harbor provisions and a return to the pre-1982 policy, management in many corporations has lost their bearings on why the company exists – first priorities being workers, their families, customer communities, society and the nation not their own compensation plan. Making the corporation profitable and valuable to shareholders is a means to achieving our societal goals of a decent wage, quality housing, and the ability of families to support their children.  In October, we posted an analysis on how major corporations like Boeing, GE and American Airlines underfunded their pension plans while executing  billions of dollars in stock buy backs. Executives need to take responsibility for full funding of all pensions not wasting money on stock buy backs. It  is time with so many middle class and economic investment needs that corporations receive a direct SEC policy shift to end stock buy backs.