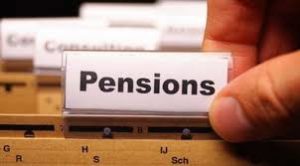 Photo: marketplace.org
Five major corporations, among many others were examined by Danielle DiMartino Booth, in the Quill Intelligence blog,  The Daily Feather – Boeing, GE, American Airlines, Lockheed Martin and AT &T on their spending for pensions versus stock buybacks.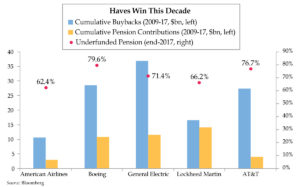 Sources : Bloomberg, Quill Intelligence – 10/22/18
The underfunded pensions ranged from just 62.4 % funded to a high of 79.6% for Boeing. Compared to explosive stock buybacks the pension underfunding is not acceptable.  This typifies the character of corporate America taking care of its own executives who are well compensated in stock plans versus workers who are given the financial leftovers.  When corporations purchase their stock from the open market  the price of the stock often goes up because the shares are effectively taken off the market.  Most executives have earnings and stock price targets as part of their compensation plans.
Goldman Sachs forecasts for all of 2019 about $1 trillion in stock buybacks.  Stock buyback funds are not going into raises for workers – which are the lowest they have ever been in a growing economy 2.5 % over the past 10 years.  When inflation is considered the wage raises are basically stagnant causing workers to fall further behind financially.  Workers are strapped by the high cost of auto loans, credit card debt and increasing healthcare premiums.
Stock buybacks means that corporations are not investing in innovation to increase productivity.  Productivity has stagnated since the Great Recession between 1.5 to 2.3 % per year, not enough to boost wages or keep prices in check for many sectors.  With 70 % of the U.S. economy provided by services businesses it is increasingly important that businesses invest in services innovation because services are a challenge to reduce costs or increase quality.
Next Steps:
We have been against stock buybacks from a pure transparency and valuation perspective to begin with – stock prices have been artificially inflated by as much as 20 % some experts believe.  Soaring valuations mislead investors into thinking a company on an earnings per share basis is performing better than it actually is. Stock buybacks do exactly nothing for the economy except to line the pockets of  executives who already make 300 % more than the average employee.  The trillion dollars going into stock buybacks are better spent on pensions to ensure workers can retire, or receive wage increases to make ends meet, or invest in equipment or innovation in research and development to increase productivity.   Stock buybacks were allowed by a former E.F. Hutton executive, named to head the SEC during the Reagan administration.  Now, would be a good time to end the malpractice and for the good of workers and the economy invest stock buyback funds in the future of America.