(Editor Note: Insight Bytes focus on key economic issues and solutions for all of us, on Thursdays we spotlight in more depth Solutions to issues we have identified. Fridays we focus on how to build the Common Good. Please right click on images to see them larger in a separate tab. Click on the Index Topic Name at the beginning of each post to see more posts on that topic on PC or Laptop.)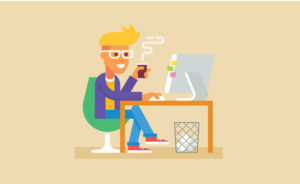 Image: thcceomagazine.com
Gig workers create millions of dollars of goods and services for the U.S. economy yet remain frustrated at not picking off a benefits stream for themselves. While, gig economy workers enjoy 'lifestyle benefits' they are lacking in good health insurance, retirement plans, stock options and addons like commute cost compensation, discounts at restaurants, staff lunches, evening taxi service, onsite laundry and company cafeteria.  Income is irregular and unpredictable for contractors whether the gig is a project or a longer term assignment with an agency.
In Silicon Valley and many high growth regions jobs in security, food concession, facilities management, IT, accounting, travel, web design, and HR have been outsourced, contracted or shifted to independent contractor roles working in their home. While independent contractors have autonomy and work flexibility they are missing key benefits.  Contingent workers like Uber drivers using the Uber app to find riders and handle billing are essentially working for the company yet not enjoying full time worker benefits.
So, how widespread in our economy is the contractor workforce?  Gallup completed a recent survey and found about 36 % of the workforce is engaged in some type of gig work.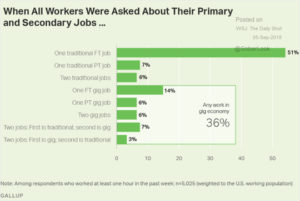 Sources: Gallup, The Wall Street Journal, The Daily Shot – 9/5/18
Seven percent of workers had one traditional job and a gig job while 3 % had two gig type jobs for a total of 10 % with two jobs.  Workers in the bottom 80 % in income have seen their wages actually decline over the past 10 years. So, it is no surprise they need to hold at least two jobs to maintain their standard of living.  The number of workers holding multiple jobs has skyrocketed in the past few years.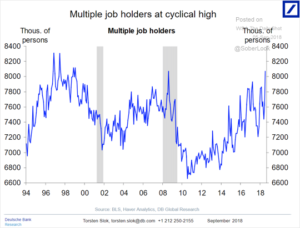 Sources: Deutsche Bank, The Wall Street Journal, The Daily Shot – 9/5/18
Note the high during the Great Recession of multiple job holders, and yet today in a strong economy we see a similar peak in workers with multiple jobs.  Is this economy really working for the majority of the labor force?
Next Steps:
The economy has not 'lifted all boats', we know that the top 10 % in income received 90 % of the income gains since 2008.  The most recent Tax Bill from Congress benefited the top 1 % and corporations to the tune of a $1 trillion deficit to be paid by all taxpayers who are seeing their incomes and benefits decline.  The gig economy has been a mechanism for corporate executives and their wealthy shareholders to cut costs, pass along retirement benefits responsibility to employees and shut many workers out of profit sharing programs.
We have proposed in previous posts that in addition to raising worker wages, gig economy works would be well served if they received health insurance from birth, a retirement program in tandem with Social Security at the time of a worker's first job and other income protections.
It is time we recognize that the gig economy is here to stay, it is a key component of the dynamism and flexibility in the workforce to drive growth and innovation – we need to plan for the just needs of workers to make the economy work for all.