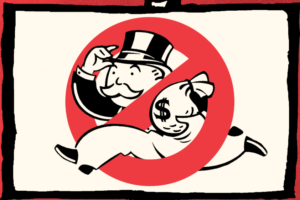 Image: vice.com
Two major steel companies, US Steel and Nucor, last March lobbied the Trump Administration to post tariffs on imported steel at 25 %. They are now pressuring the Administration to deny any requests for waivers from the tariffs.  Over 1,600 applications have been filed for exclusion from the tariff provisions which blanketed the world including the European Union, Mexico, Canada, Japan and China.  The two steel giants are in fact creating a monopoly for their steel products in the U.S.
In order to protect about 33,000 steel worker jobs, several million jobs in steel using industries are jeopardized by the tariffs: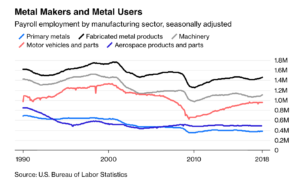 Sources: U.S. Bureau of Labor Statistics, Bloomberg – 3/2/18
Nucor paid for a film by presidential advisor Peter Navarro, when he was a professor at UC Irvine on the threat of China imported steel being dumped onto U.S. markets.  Certainly, there are issues related to China trade practices but is using 25 % tariffs on all imported steel even from allies going to force China to change their export practices?
Next Steps:
Companies that use steel in their products are reeling from soaring price increases in steel and sourcing issues because U.S. steel producers do not make the products they need.  Elite corporate CEOs are running their companies via the U.S. government to pick winners (themselves) and losers over 1,600 companies being denied exemptions to run their businesses successfully and keep jobs here in the U.S. Now, many firms are planning on moving operations to countries closer to their customers to avoid the tariffs all together – thus moving jobs out of the U.S. It seems already the tariff plan has backfired, moving jobs out of the U.S. and jeopardizing millions of jobs.  We should not be tolerating this state of oligarchy, where two major companies setup tariffs to their exclusive benefit in while damaging thousands of other companies businesses and threatening millions of U.S. jobs.  It is the job of our federal government to not pick winners and losers but to establish fair markets for innovation and entrepreneurship to triumph. The tariffs need to be lifted and an intelligent trade strategy in collaboriation with our allies to end China steel dumping practices be implemented.