(Editor Note: Insight Bytes focus on key economic issues and solutions for all of us, on Thursdays we spotlight in more depth Solutions to issues we have identified. Fridays we focus on how to build the Common Good. Please right click on images to see them larger in a separate tab. Click on the Index Topic Name at the beginning of each post to see more posts on that topic on PC or Laptop.)

Image: globalclimateactionsummit.org
Yesterday, California Gov. Jerry Brown, convened the  Global Climate Action Summit in San Francisco.  The Summit brought together climate change leaders from around the world in private, government and non – government sectors to focus on action-oriented programs to mitigate the effects of global warming. Just before the meeting started Governor Brown signed into law a goal for the state to be using 100 % electric and renewable energy by 2045.
The conference sponsors focused on urgency in their introduction to the conference:
"The Global Climate Action Summit, happening midway between Paris 2015 and 2020, is timed to provide the confidence to governments to 'step up' and trigger this next level of ambition sooner rather than later. 
The momentum we generate this year must lead to bending the curve of emissions down by 2020—science advises us that this gives the world the best opportunity to prevent the worst effects of climate change. 2018 therefore must be the beginning of a new phase of action and ambition on climate change.
The Summit will underscore the urgency of the threat of climate change by mobilizing the voices and experience of real people, in real communities already facing real and stark threats. It will challenge and channel the energy and idealism of people everywhere to step up and overcome it."
The carbonization of our planet is the preeminent challenge of our times, possibly threatening our very existence long term.  World-wide temperature records are being set from Tokyo to Washington as the following heat map for 2018 indicates: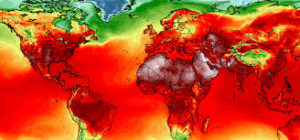 Source: The Washington Post – 7/5/18
About 25 % of the heat is being soaked up by the ocean causing algae blooms which can contaminate water and cause wildlife to die. Scientists in the Pacific Northwest have discovered how certain ocean plants can dilute and mitigate water acidity. There are a variety of solutions being developed by governments and private businesses, yet what we need is a coordinated effort focused on those solutions that are most effective, affordable and can be quickly implemented.
We applaud California leaders for taking the initiative on this critical issue of our times to urge world governments to implement solutions to climate change before the problem goes beyond our ability to cope with the effects.