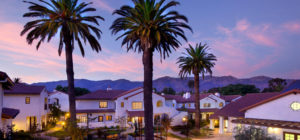 Photo: St. Vincents Housing
The California legislature has introduced a bill to make low income housing tax credits available to housing agencies for middle income housing. Assemblyman David Chu, D -San Francisco, said "During the housing crisis middle income Californians are in a very tough spot, "he noted that "They don't qualify for low income affordable housing, but also can't afford market rates". It is good to see the California legislature taking action on this core issue for the middle class.
With stagnant wage increases, lack of affordable housing and rising interest rates middle income families are forced to rent instead of buying a starter home. Overall nationally the number of first time buyers in the market has dropped by two percentage points to 30 % from 32 % last month which indicates how they are getting squeezed out of the market in our recent blog of 2-20-18. The housing affordability index is at a 9 year low as well.
Add to these factors driving the lack of affordability is the inventory of starter houses is continuing to shrink as builders go for higher margin larger homes with higher prices – the average price of a home has increased year over year by 6.8 % way above the average salary increase barely reaching 2.5 %.
The following chart shows how home ownership rose during the period prior to the Great Recession but has fallen since to 1990s levels.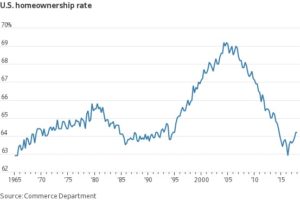 Source: Department of Commerce – 4/26/18
We need to have housing ownership levels back to 2003 levels before all the sub-prime mortgage programs spiked the home owner binge.
As we have observed in the past home ownership is a foundational goal for many people. Homeowners invest time and energy in a commitment to the long term improvement of our communities. Household creation boosts our economy when new home owners buy appliances, furniture, carpeting and improvement services.
We applaud the California bill but it does not go far enough. We need renewed housing funding via Fannie Mae and Freddie Mac, incentives for builders to build low cost starter homes, cities to set aside more land for housing and an end to Administration protectionist tariffs against Canada driving up the piece of lumber.