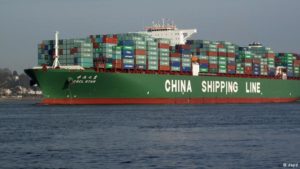 Image: asissentinel.com
Two grain ships filled with sorghum grain reversed course or headed to new destinations as China announced last week that they would require a 179 % deposit on the commodity.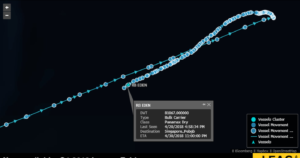 Image: The Ship RB Eden Turning – Bloomberg – 4/20/18
US farmers shipped about $1 billion per year over the past two years of sorghum to China according to the Wall Street Journal. China is specifically targeting Trump states to make the point that a tit for tat trade war will end badly for US producers.
As other countries mount their own tariffs to US goods, and the US slaps tariffs on imported goods prices will go up.  When prices go up, inflation increases causing interest rates to rise, which means that interest rates rise on credit cards to mortgages.  Every consumer has some debt and the inflation wave will crash through the US financial system, ending the 2nd longest economic growth period since WWII – though the economy has helped the top 20 % the most versus the 80 % in the working class.
Next steps:
As we have noted previously, business leaders are already making decisions and calculations like turning ships around.  The Administration's announcement and follow through on steel aluminum and lumber have distorted markets artificially causing increased prices and supply disruptions. Our leaders need to stop this bullying approach toward our trade partners, use international forums and work within our trade alliances to settle trade issues. Starting a trade war will cause everyone to lose money, jobs and trigger an economic downturn. The working class will be hurt the most, as they have the least amount of money saved and are usually the first to be fired in any falling economy.