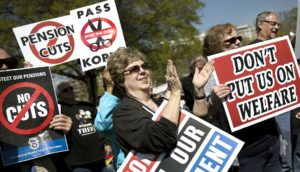 Photo: commondreams.org
Toys R Us was saddled with billions of dollars of debt by private buyout firms like Kohlberg Kravis Roberts.  Pension funds provide firms like KKR with funds to invest expecting higher returns than stock market rates. When the workers at Toys R Us petitioned the Minnesota Pension Fund that they had been denied a severance the fund suspended making investments with KKR.  About 35 % of all private equity funding comes from public pension investors.
The New Jersey pension fund has listened to its pensioners on issues like not foreclosing on Puerto Rico residents who are recovering from Hurricane Harvey and an investment in a payday lender.  Adam Liebtag, the acting chairman of the New Jersey State Investment Council, told the New York Times,  "They are paying closer attention. They are following the money."
Pension funds provide about 35 % of all private equity funding. providing a good channel of leverage for activist groups.  The deals that pensions do with private equity firms continues to rise as well.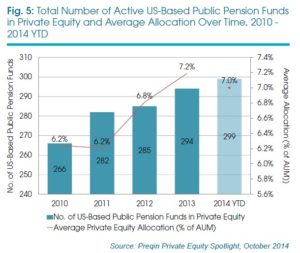 Source: Prequin Private Equity Spotlight, Value Walk – 10/2014
Sarah Bloom Raskin, a fellow at Duke University and a deputy Treasury secretary in the Obama administration, observed, "Workers don't want their pension money invested in ways that hurt other workers".  Workers are waking up to the fact they have financial power to get private equity firms to listen to their concerns that private equity policies are hurting some workers as in the Toys R Us case, heavily loaded with $5 billion in debt from a private buyout.
Next Steps:
We see the pension leverage option on private equity firms as a model to build on.  Why not require pensions to listen to their investor – workers by having a set of investor – workers on their board, participating in the investment decisions the board makes to begin with.  Workers should be constantly polled for their concerns to ensure adherence to investment policies that are moving the lives of workers better in any company where the pension is invested.  Workers are mainly left out of the financial decisions that manage their lives while working for a company, at least after retiring the money they have saved in a pensions fund should speak for them and their concerns in building a better life for all employees.