(Saving Democracy Series: this post focuses on how our POTUS has agreement by agreement ripped up the post WWII integrated global world that provided most of the people in the world with peace and prosperity that is unparalleled in history. He has replaced peace with random acts of impulsiveness, doubt, uncertainty and threats which have caused major economic, cultural and societal damage to both emerging and developing countries. A more dangerous world of nationalism along the lines of the 1930s is now emerging with all its possible horrible results. First economic loss, then war. It is time to establish a new global order fair to labor and capital in a world order of respect, freedom of thought and speech with economic opportunities for all to establish global stability and peace.)
On July 2nd, the US Trade Representative announced possible $4b in new tariffs on the EU for subsidizing of Airbus, responding to Boeing concerns. Another episode of impulsive threats happened last May when POTUS threatened Mexico with a 10 % tariff on all imported goods if the flow of immigrants across the border did not stop by June 10th. The action against Mexico threatened support for the just recently announced new trade treaty with Mexico – why sign a treaty when the US is just going to do whatever it wants. He backed down on the threat after the Mexican government made a commitment to redouble efforts at stopping the wave of immigrants from Central America. We can add these trade attacks to a long list of treaties, agreements or international organizations that our POTUS has taken the US out of (or renegotiated):
Nuclear Arms Treaty – Russia
Iran Nuclear Treaty – EU joint signators
Trans Pacific Partnership – TPP – with 10 emerging countries, Mexico, Canada and Japan
NAFTA – replaced by two bilateral agreements under consideration by Congress
UNESCO – UN cultural program
UNHRC – UN Human Rights Council
UNRWA – UN Refugee and Works Agency – supports 5M Palestinian refugees, when the US pulled out riots broke out for a week
Paris Climate Treaty
Global Arms Treaty
G7 – developed countries council – POTUS wants Russia added back in, they were barred after annexing the Crimea
Brexit – US has been cheering the UK leaving the EU, offering a 'big agreement' if the UK leaves the EU
POTUS has continued to bash NATO, a long standing military organization uniting Europe and the US against an aggressor. The constant undermining of the group opens a divide that adversaries may see as a crack to drive division and move ahead with probes or territorial gains.
The president has also focused on economic agreements – taking a unilateral approach around the provisions of the World Trade Organization and standing economic agreements on tariffs. He calls himself the 'Tariff Man' and has implemented with the acquiesce of Congress tariffs on allies like Canada & Mexico (new separate agreements under Congressional review), competitors like China, and cancelled a favorable import agreement for India. Businesses are worried: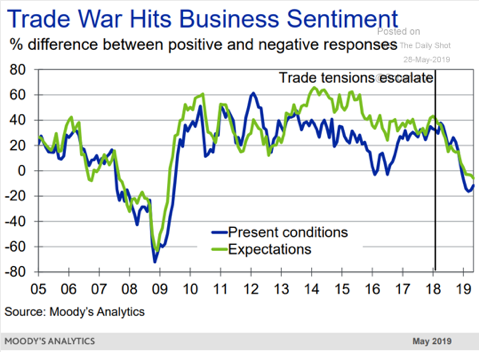 Consumers have been hurt already in nine different product classes with increases in prices of over 10 %, as consumers or the importer pay the increase tariff on an imported goods including appliances (washer and dryer tariffs 12 months ago), furniture, bedding, floor coverings, auto parts, motorcycles, sport vehicles, housekeeping supplies and sewing equipment: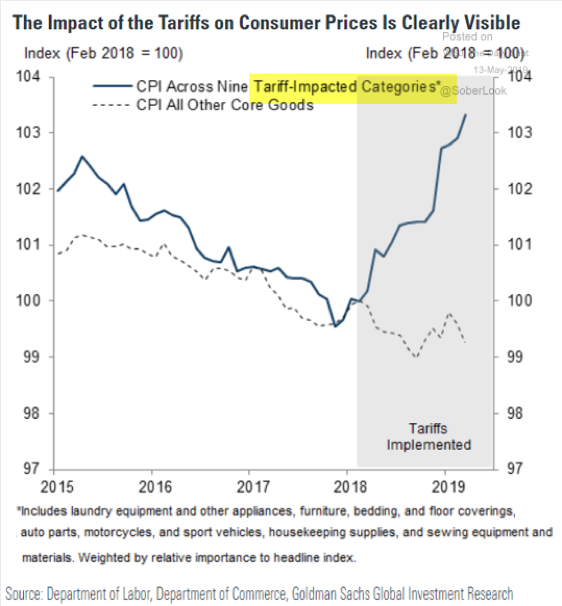 The United States and China have been sparing since July 2018 in an escalating trade war, which seemed to be coming to a conclusion as recently as last April. Then, the President announced in a tweet that China a reneged on commitments it had made and was ending negotiations. The Chinese sent a delegation to try and restart negotiations but it was fruitless. For two months tensions escalated until a truce with a restart in negotiations was called as a result of a summit between President Trump and Chairman Xi at Osaka on June 29th. The US relented on planned additional tariffs on all China imports up to $325b, and eased restrictions on Huawei sales by American companies in return for a vague promise by the Chinese to purchase more farm goods and to negotiate.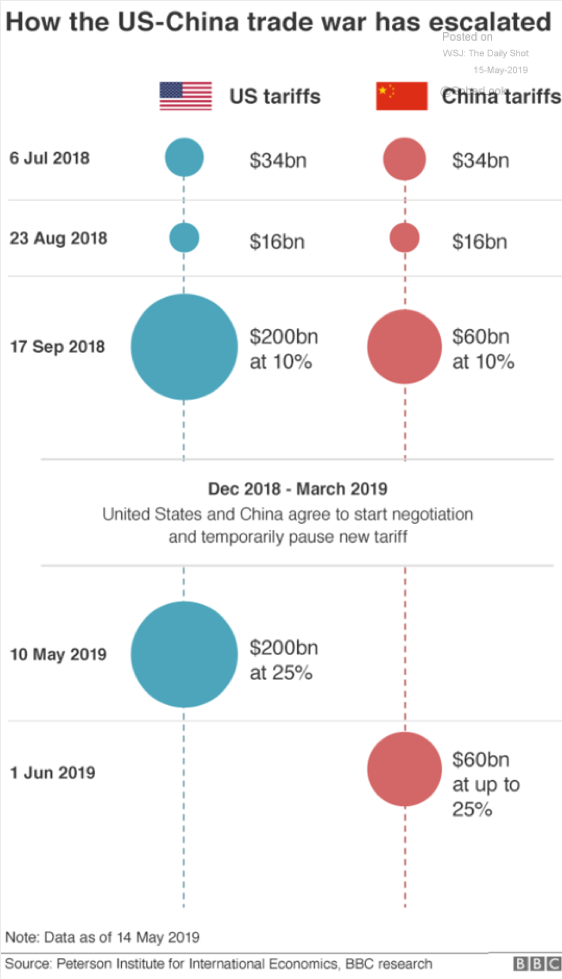 The Chinese have dug in for a long haul, threatening to cut rare earth shipments to the US and curtail further purchase of US Treasury bonds, with additional $60 B in tariffs at 25 %. We must remember the Chinese form of capitalism is really not 'state based capitalism' as the financial media likes to label in a benign way. The China economy is really 'authoritarianism cloaked in capitalism'. This is a mixed economy of state based industries subsidized with some free capital sectors kept in place by central planning. A key aspect of the this cloaking activity is the lack of transparency about who actually owns a Chinese company. In addition, the China Central Bank (PBOC) and sovereign wealth fund own about $200 B in US stocks providing insights and investment control. The Chinese government has deployed Orwellian digital surveillance to keep the people loyal to the state and not thinking or speaking freely. Internet news and social media sties are heavily censored by the state. That's not democratic based capitalism. Another twist in the relationship with China, is Wall Street leaders have been instrumental in assisting the Chinese government in gaining approval to join the WTO years ago, and still make billions of dollars from fees and investments. The recent Chinese overture to open financial markets maybe a way for the Chinese to win over Wall Street and blunt the trade war of the GOP administration. The Trump Trade war with China is a failure, because it misses the true character of authoritarian government and economics how it uses the economy and capitalism to placate the masses to increase state control. Central government loyalty is the prime directive. Trust is missing between the people and the state – yet the people give up freedom for money when we here the Hong Kong protesters who vandalized the legislature building in late June criticized by mainlanders with comments like 'they need to quit protesting and get a good job and buy things'. This is a bargain with manipulative leaders resulting in an unhappy ending, as people's hearts and minds are imprisoned for money, the benefits with be fleeting and the costs dear.
Farmers in the Midwest, growing soybeans have seen their market collapse, other crops like corn, sorghum, wheat have seen huge price drops as China stopped buying from US suppliers. As soybean prices have fallen farm income has dropped almost 20 % and Midwest bankruptcies of farmers have risen above levels seen in the Great Recession.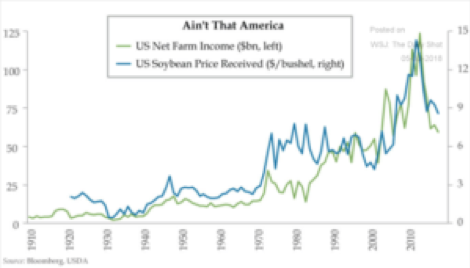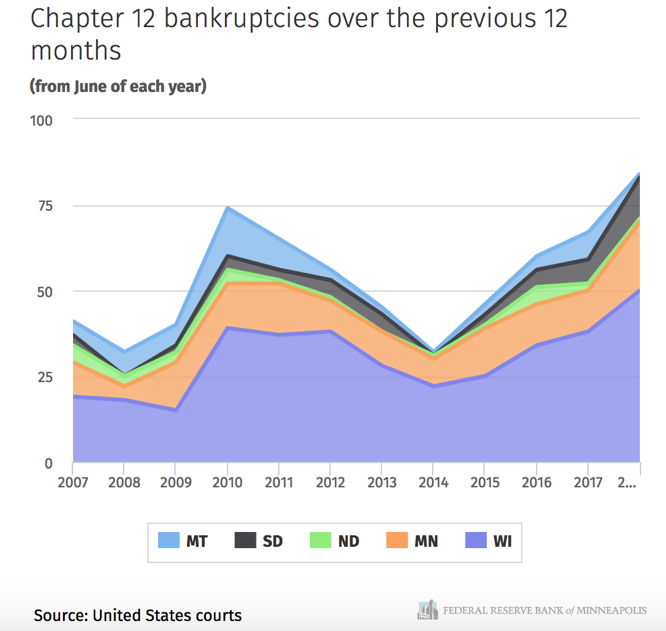 Since last fall when this Federal Reserve report was filed, bankruptcies have continued to increase at an accelerated rate, as farmers cannot get loans from banks to buy seed when prices are so low. The Administration has promised subsidies to farmers totaling $16bn yet the president of Soybean Farmers Association says he has not been able to see Agriculture Secretary Perdue or any of the subsidy money nor farmers in his group. Many farmers believe that when the money does come from the government it will not be enough and not replace the contracts for farm goos lost to Brazil, Russia and other countries.
Next Steps:
World War II was catastrophe for the world, millions of people killed, whole societies wiped out, along with an aftermath of starvation and depressed economies. World leaders did not want to see a repeat of the WWII disaster. They knew if they built a set of world-wide agreements and regional organizations to sustain and enforce those agreements there might be a better chance to prevent war from happening again. The United Nations was founded in October of 1945 in San Francisco to provide a forum for discussion and implementation of world community building programs. The NATO alliance was founded by 29 countries who were WWII allies by approving the North Atlantic Treaty in Washington in April, 1949. Economic disputes were to be settled by adhering to the General Agreement on Trade and Tariffs approved by over 100 countries in 1948. The World Trade Organization charted in 1994 succeeded GATT, headquartered in Geneva, Switzerland. Thus, many treaties and organizations were founded by most developed countries and many emerging countries to give economic, cultural and governmental support toward building a world community. Presidents from both parties through the years since WWII have supported the uniting of diverse people around the globe so they all have a piece of the economic pie and security.
Now, our POTUS seems to think that ripping up global treaties and organizations, undermining them, and going it alone will somehow be better for the US. Maybe things will get better for a few companies or sectors for a little while. However the trade deficit continues to trend worse since the January 2017 term of POTUS to the highest deficit ever with $55 bn last May,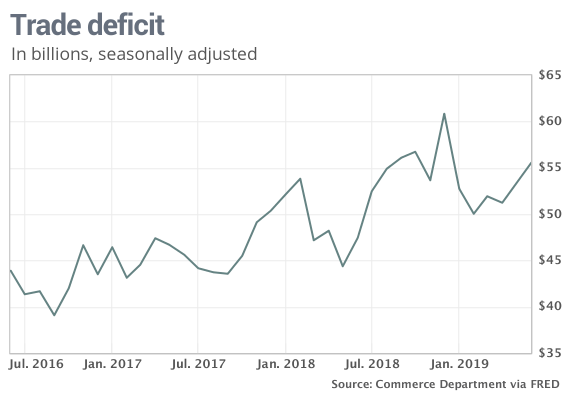 Some soybean contracts have returned, yet the US still imports more from Europe, Mexico and Canada than we export, the tariff war is just making the deficit worse. Already, we have seen with retaliatory tariffs from China, threats of reunification to take Taiwan – as a national publication likened to Lincoln unifying the United States. Today countries are going after their own goals spiraling downward into economic wars and eventually military action. The lessons of the Great Depression, the Smoot-Hawley Tariff Act, harsh reparations on Germany and nationalism (rising today in a hideous way) led to WWII. When other countries see the US leader of the free world embrace 'America First' ambitions, why should they sit back and let America get ahead, the fight is on. We should work with the capitalism elements and businesses in the China that are largely free of state control, building bridges to them, empowering them so country leaders see that the only path to lasting prosperity is when the people's minds are free to innovate and create.
Yes, it is true, there were unbalanced agreements, the US did lose jobs to overseas countries, and maybe a few emerging countries took advantage the US. But, we need to be thinking about helping people build their economies, or they will want a piece of the economic pie by force from the US. Job safeguards for American workers should be in place in all agreements, and fair levees and access to markets, protection of intellectual property, yet we need to work within the world order to make structural changes supported by all countries.