(Editor Note: Insight Bytes focus on key economic issues and solutions for all of us, on Thursdays we spotlight in more depth Solutions to issues we have identified. Fridays we focus on how to build the Common Good. Please right click on images to see them larger in a separate tab. Click on the Index Topic Name at the beginning of each post to see more posts on that topic on PC or Laptop.)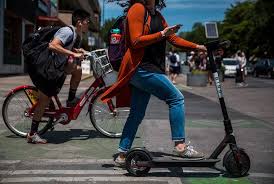 Photo: texastribune.org
In a recent seminar by Climate One, an environmental conversation group, sponsored in San Francisco, one participant pointed out "the greenhouse gas reduction potential is huge.  Greenhouse gases from transportation are about 28% of all greenhouse gases in this country. "  Certainly changing how we get from home to the grocery store and everywhere will have a significant impact on climate change and greenhouse gas diffusion into the atmosphere.
While a few of us walk to the market bringing home our groceries in a cart with a basket, 99 % of all grocery trips are made by one person in a two-ton car, spewing out carbon gases.  Of course, most Americans still live in suburbs, sprawled out with single family homes connected by streets and freeways to shopping centers where the grocery store is located.  We buy a house in the suburb, buy a car to get around and that's about all the thought we put into it.
We need to start thinking beyond the present urban map and transportation model centered on the single passenger car.  How about electric scooters?  They are shareable, we setup a logon on our smartphone, pick up a scooter left by a previous user and head on our way. Just leave the scooter there on the sidewalk when we arrive for the next person to use it.  In a minute or two, they are riding and are off on their trip.  Bikes are being shared in cities all over the U.S. with some bikes motorized to handle longer trips.
A short trip in a car on average costs about $8 one way, while an electric assisted bike costs just $2 per trip. There are cargo bikes available as well that can handle larger loads.  Of course, weather is an issue as these sharable scooter and bike solutions are growing popular in the Southwest and West.  Public transit, a bus or subway maybe the answer for rainy or snowy days.
Uber and Lyft are rethinking their business models to include electric scooters, and bikes. A customer logs on to their app for all personal transportation needs is their vision. They already offer shareable rides at a discount. Instead of buying a car, people are living closer to work and shopping in densely populated cities where owning a car is actually a costly liability.
New sharable transportation models combined with driverless cars would not only change transportation but our city maps as well.  Urban planners are already building denser housing near transportation hubs, providing bike lanes off away from parked cars and more bike pathways used exclusively by bikers.  The economic consequences are significant, the new car and used car markets would begin to shrink,  financing and insurance businesses for auto loans would decline.  New businesses using sharable transportation system would spring up for delivery, assisted transportation for doctor appoints or dropping off kids a practice.
Most importantly, using sharable transportation vehicles, bikes and scooters would make a significant impact to reduce carbon gases across the planet.  We may be able to finally, get ahead of the climate change curve and return our planet to more livable temperatures
Thinking creatively to solve our major problems like Climate One does in conversation mode with all points of view represented is refreshing.  The dialog during this seminar was focused on 'can do'  and 'make it happen' while being sensitive to safety issues, city regulators and other businesses.  If we could have more of this civil solution oriented tone in our national dialog we could solve the big problems in front of us, as we always have the past two hundred and forty years.