(Editor Note: Insight Bytes focus on key economic issues and solutions for all of us, on Thursdays we spotlight in more depth Solutions to issues we have identified. Fridays we focus on how to build the Common Good. Please right click on images to see them larger in a separate tab. Click on the Index Topic Name at the beginning of each post to see more posts on that topic on PC or Laptop.)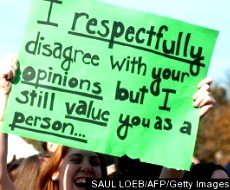 Photo: cityofhomer-ak.gov
It is next to impossible to have a national conversation toward the Common Good when our POTUS is using threats, invective, fear, hate, mocking and inciting violence as political tools.  The national media repeats all these negative, destructive emotions which invite and give permission to those who would breed and support divisiveness and lack of compromise.  We need to wake up to the fact that the combination of authoritarian politics and instant media will undercut the voices of reason and compromise creating hurricane force headwinds for any reasonable proposal.
Our founding fathers saw that compromise was a critical element in the success of the American experiment which is why they designed a 'compromise forcing' structure to our government – Congress, Supreme Court, and President.  They did not want to create a parliamentary democracy as a structure because they saw the majority wielding too much power in both the legislative and executive. Yet the Elite minority and mega corporations run the show in Washington. We have a borderline authoritarian Executive branch, an uncompromising Congress and lifetime conservative appointments to the Supreme Court.  The Electoral College system undermines our democracy by allowing a President to be elected without  a plurality of votes.  The installation of a President who does not represent the selection of the majority of the people sets the stage for more divisiveness because the majority feels their ideas have been left out of the political process. Even worse is the loss of legitimacy toward the Executive branch and the policies and programs it implements.  Citizens then go after these illegitimate policies and those administering them with even more angst applying uncivil tactics to be heard.  Accosting our elected officials, and agency leaders in restaurants by heckling them or otherwise making their normal day to day life miserable is not the way to build bridges of communication, understanding and respect.
What is the antidote to this incivility?  There are at least two things we can do.  First, Melanie Rudd, an assistant professor of marketing t the University of Houston found in her studies on happiness that people felt better after they had done something kind or good for someone else.  This observation makes sense as we all can experience this feeling in our lives particularly if we grew up in a family where our parents demonstrated how service and acts of kindness made our lives happier.  Or, at work when our company leaders support charitable causes 'doing the walk for cancer research' etc.
Second,  as in our family or at work our identification with a group doing good things helps to create 'kindness contagion'.  Jamil Zaki, assistant professor of psychology at Stanford University has studied kindness contagion in depth. He found that kindness can be transmitted , "We find that people imitate not only the particulars of positive actions, but also the spirit underlying them."
So maybe by doing good things in service to others, in a group we can change the underlying spirit today toward civility, compromise and consensus moving our country forward.