(Editor Note: Insight Bytes focus on key economic issues and solutions for all of us, on Thursdays we spotlight in more depth Solutions to issues we have identified. Fridays we focus on how to build the Common Good. Please right click on images to see them larger in a separate tab. Click on the Index Topic Name at the beginning of each post to see more posts on that topic on PC or Laptop.)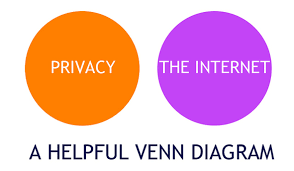 Image: scienceprogress.org
A year ago, Mastercard sold consumer store transaction data to Google, who sells the store transaction information and correlates it to searches for the same product or service to advertisers.  Advertisers can see patterns in consumer behavior from the ads that are run and whether a prospective buyer went to the store to buy the item or online (online tracking databases). This strategy by Google is focused on Amazon's business, and their recent moves into in store retail to dominate emerging sectors.
Google is dominant in digital advertising: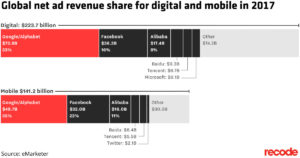 Sources: eMarker, Recode – 2018
In digital advertising Google has 2 times the share of its next largest competitor – Facebook.  In mobile advertising, Google has a 1.5 times greater share of the advertising business. In short, Google is the digital advertising player for most advertisers to work with, and Google is interested in maintaining that dominant position versus possible competitors like Amazon. Amazon now has 50 % of the eCommerce business in the U.S. The eCommerce behemoth is in a position to both track consumer behavior and offer point of decision purchase capabilities.
So, what does this mean for us as users and our privacy?  Google is no longer a company just setting up a partnering relationship with Mastercard, they are controlling the retail market and manipulating data to put us under constant surveillance. We did not give our permission to Google to constantly put us under surveillance.  It is dangerous to our private lives to have a big corporation or partners knowing everything we are doing and buying.  What happens if hackers break into these databases and begin to use the data to find us or siphon off our purchases or find out our transaction information or credit card data?
Next Steps:
First principle is that we own our data, and we own the patterns of our searches that is our propriety information because it is our behavior and is not owned by the company. When users search on Google, they are looking for an idea, a product or a service or a person – not to be spied on.  Recently, Google was still keeping user location even when the user turned off  location services.  A couple of years ago Google tracked words in user email messages and sold the information to advertisers, so if a user mentioned their child's bike, all the sudden bike ads were showing up in the side bar – they finally ended this practice after a lot of complaints it was just too spooky.
Second, Google and Internet companies can't build trust with users if they are constantly telling us one thing and doing something else to their benefit and not ours. The U.S. should look at implementation of a policy like the EU General Data Protection Regulation (GDPR) plan which could be widened to include schemes like the Google – Mastercard deal. The GDPR provides users with control over their personal data and how or if it may be transmitted outside of the country. The GDPR policy particularly focuses on personally identifiable information and how this information is to be handled in a confidential manner, not disclosed to third parties and the information made anonymous to outsiders.  In a provision we particularly like the information processor (ie Google) must enable users to be able to erase their information on the system.
We need to take a stand as a user community that user rights come first. User's own their data not the processors.  Users should have control over any processing of that data and who has access to their personal data. Otherwise, we are opening our citizens to corporate spying for any reason, and targeting of the linked Mastercard – Google profile data to hackers.