(Editor Note: Insight Bytes focus on key economic issues and solutions for all of us, on Thursdays we spotlight in more depth Solutions to issues we have identified. Fridays we focus on how to build the Common Good. Please right click on images to see them larger in a separate tab. Click on the Index Topic Name at the beginning of each post to see more posts on that topic on PC or Laptop.)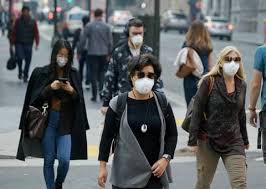 Photo: washingtonpost.com
Something's not right.  My grandson is not playing soccer and POTUS nominates a coal lobbyist to lead the EPA?
We all feel it.  Right in the pit of our stomach, here in Northern California, while we are being hurt by the effects climate change.  While not completely to blame, the Butte County fire storm was compounded by global greenhouse gas effects and as a possible cause a spark from an electricity wire.
Something is not right.  As we experience in the Bay Area our eighth day of unhealthy air from the Camp Fire in the Sierra foothills. Those with lung diseases are shut away in their homes, people are not going out. Businesses that depend on foot traffic are seeing losses of 10 – 20 %. Football games like the Big Game, between Stanford and California are being rescheduled to December 1st – the first time that game has been rescheduled since the assassination of President Kennedy in 1963. Local universities and colleges are closed for classes: Stanford, University of California, Santa Clara University, De Anza College and many secondary school districts.
Yet, our President nominates a coal lobbyist to head up EPA?  The mission is in the name Environment Protection Agency, Not Environmental Destruction Agency.  Coal is a fossil fuel contributing to massive amounts of gas emissions warming our earth. Heating the planet every day.  Here is the path we are on toward 1.5  degrees C and eventual extinction of the human race: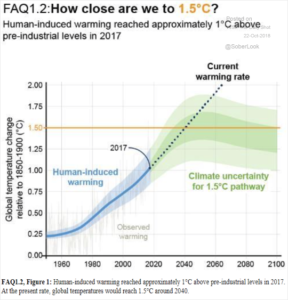 Sources: The Wall Street Journal, The Daily Shot – 11/15/18
My grandson's soccer game was cancelled last Saturday and will be cancelled again tomorrow due to unhealthy smoke in the air.  Is this the new normal?  We don't have to support this heresy destroying our environment, our families and our lives anymore!
Why in the world is a coal lobbyist heading up EPA?  Something is very wrong with this picture. Maybe the House Progressive Caucus has it right to camp out at Nancy Pelosi's office the other day demanding climate change legislation.
We have accepted the status quo too long on climate change.  Industry priorities must come second to clean air, water and the planet period.
The sheer ignorance, lack of wisdom and understanding of science is killing our people, making life a struggle for thousands, shortening life expectancies and reducing the sales of legitimate businesses – all so coal companies that should be shifting their business from fossil fuels to renewables have not made the transition.  We should not be paying for coal company executive mistakes.
We need to be asking at what cost do we keep coal? It is clear the cost is too great.  We need to quit accepting the platitude  'it saves jobs' and replace it with we want 'live saving jobs' for all. We can't accept this environmental spiral downward for the ourselves and our planet. We must return to the Paris Climate Change agreement, renew investments in renewables, focus on clean jobs training and development.  Get on with it now, future generations and our planet are depending on us to make sound decisions and not accept blind governance one day longer.