(Editor Note: Insight Bytes focus on key economic issues and solutions for all of us, on Thursdays we spotlight in more depth Solutions to issues we have identified. Fridays we focus on how to build the Common Good. Please right click on images to see them larger in a separate tab.)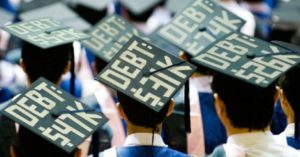 Photo: commondreams.org
U.S. household debt is up as families are caught between soaring debt and stagnant wages.  We have noted how wages have been wiped out by inflation in the latest Bureau of Labor Statistics report comparing July of 2017 to July of 2018. The Federal Reserve of New York and Equifax have tallied the last figures on household debt in the charts below.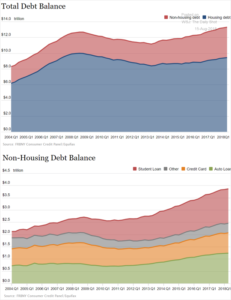 Sources: Federal Reserve of New York, Equifax, The Wall Street Journal, The Daily Shot – 8/15/18
Student Loan debt continued to increase while credit card, auto and other debt held steady.  The reduction of financial support by state and federal government to higher education is appalling.  Before the Great Recession public funding for higher education was at 50 % still a drastically less then funding in the 1970s.  Now, public funding for higher education is at 35 % leaving universities with no choice but to raise tuition.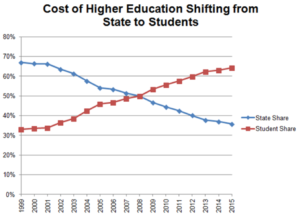 Source: kypolicy.org
Public college tuition and fees costs (in 2015 dollars) have almost tripled since 1975, so students needed to borrow money to complete their education.
The student loan predicament is a national disgrace.  It exemplifies how poorly we as a society have supported the higher education.  Our young people are looking to start families and looking to purchase homes yet, they are not moving ahead.  The birth rate is at the lowest level it has ever been in this nations' history and the number of millennials purchasing homes is a the lowest level it has been since before the Great Recession. Without the younger generation purchasing homes the second stage economy supported by new household formation fades.  The markets for appliances, furniture, home repair and remodeling, carpeting and many other household product sales will fall.
Next Steps:
We said in our blog of May 29th the student debt problem is so great that it is hurting the formation of new households:
"In 2003, 42 % of people under age 35 owned a home now only 35 % own a home.  The dream of owning a home is slipping away as our society allows the rich continue to enjoy huge tax reductions in the most recent tax bill, with continuous lack of state funding for colleges and universities and then a paucity of forgiveness programs for graduates."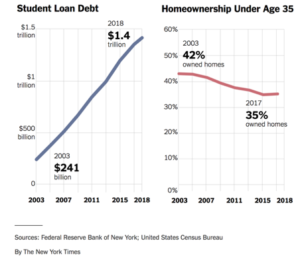 Sources: Federal Reserve Bank of New York, US Census Bureau, New York Times – 5/29/18
Further we outlined some recognition of the student debt problem but much more needs to be done.
"As part of the spending bill that Congress passed last month, $350 million was allocated for a fix it forgiveness program for some types of student loans.  Senator Elizabeth Warren has been surveying the issue and individuals trying to take advantage of the provisions where she found that it was quite complex, answers were in complete from the Department of Education and work still needed to be done to setup the process. She found many firefighters and teachers having a difficult time getting into the program.  Prior to passage of the spending bill Senators Whitehouse and Kaine wrote a bill to setup a student debt forgiveness program and get it funded, their bill set the stage for Democrats to push for provisions of the bill to be included in the omnibus spending bill.
This solution is still not enough compared to the huge issue of $1.49 trillion outstanding placing an anchor of debt on our young people when they need to be investing in starting their families and careers and buying homes. In blog of February 16th in our archives, we review an idea to cancel all student debt.  We like the idea moving forward, yet recommend that forgiveness be done in stages, by reducing interest rates, offering Heartland Service, providing a universal national service option and corporate sponsorship of an internship by the student."
It is unacceptable that our Congress and Executive branch are focused on how to give more money to Corporate Nation States and The Elite, they should be representing us and focusing on how to solve the student loan crisis and create opportunities for our young people and our country.