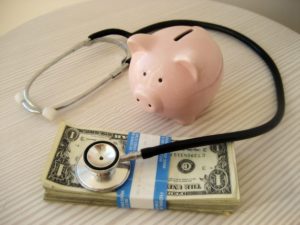 Image: wbur.org
Hospitals are the number one cost in health care nationwide at $1 trillion per year.  Healthcare is close to 20 % of the U.S. annual GDP.  Physician and clinical services are second followed by prescription drugs.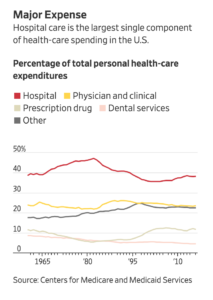 Sources: Centers for Medicare and Medicaid Services, The Wall Street Journal – 9/19/18
Hospitals are at the center of the most intense and high care treatments for surgeries, interventions, procedures and emergency care.  Most must take Medicare payments if they are to have a wide enough patient population to support their business. Yet, Medicare reimbursements often don't cover the actual costs of treatment.  Hospitals look to employer – insurer plans and cash customers to make up the difference.
The Wall Street Journal investigated a number of hospital – insurer contracts and found in some cases the hospitals and insurers were cutting contracts which included non-compete clauses.  Thus, if a hospital had a dominant position in a patient market, it would require that the insurer not insure patients of their competitor.  Clearly, a restraint of trade, causing employer plans to pick up the balance, and in some cases where doctors were affiliated with hospitals employees were having to pick up the extra cost. Employers have seen premiums from insurers going up to handle the extra cost of these sweetheart deals.
These close partnership deals between hospitals and insurers create higher costs where services are much cheaper outside of the hospital in a doctor's office.

Sources: Health Care Cost Institute, The Wall Street Journal – 9/19/18
Instead of hospitals steering patients to their doctors for many services, they provide the services on an outpatient basis at a much more expensive price. Insurers pick up the outpatient cost and then charge employers and patients higher premiums than necessary.
Next Steps:
 We have supported the Affordable Health Care Act provisions requiring insurers to insure all patients with existing conditions, and other patient oriented options.  However, this law is only the first step in reforming the healthcare industry, rigorous enforcement of anti-trust laws needs to take place to eliminate practices like these non-compete agreements.  We call for transparency in pricing of all drugs, and the relationship between drug manufacturers and pharmacies. We recommended in earlier posts that all Americans should have access to good quality health care, beginning with a healthcare account at birth. Then, as the patient takes a job, employer plans can be used, but always between jobs or disability the patient is covered.  Medicare should be the first line of insurance for all from birth with employer plans supplementing the main plan.  Medicare should have complete negotiating rights with drug manufacturers to get the best price for all patients.  All health care for profit companies should be barred from buying back stock and wasting money on executives which is better spent reducing prices and increasing the quality of care.