(Editor Note: Insight Bytes focus on key economic issues and solutions for all of us, on Thursdays we spotlight in more depth Solutions to issues we have identified. Fridays we focus on how to build the Common Good. Please right click on images to see them larger in a separate tab. Click on the Index Topic Name at the beginning of each post to see more posts on that topic on PC or Laptop.)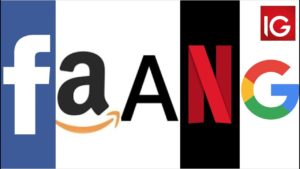 Image: youtube.com
Recently the high technology power houses like Google, Facebook, Uber and Amazon have appeared in the news related to national issues privacy, Russia hacking, driver contractors and conservative viewpoint censorship.  There is an even more troubling trend; major high tech corporations are controlling key decisions, policies and direction of development for many major American cities and states. Amazon is throwing its weight around the U.S. in search of a 2nd corporate headquarters.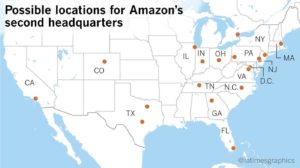 Source: LA Times – 1/19/18
Amazon has already received millions of dollars in tax subsidies and compensation  for locating warehouses in some regions. The Governor of Maryland has offered a $5 billion package of transportation and tax breaks to the company to locate in Maryland, while Newark and New Jersey have offered a $7 billion package of subsidies.  Amazon has been adept at Seattle politics as well, when the city unanimously passed a $275 per employee tax on businesses to pay for homeless shelters and affordable housing. Amazon along with local businesses pushed back and the measure was repealed.
Apple purchased a site previously owned by Hewlett – Packard for its Apple Park spaceship headquarters.  The Cupertino city council was delighted with the plan to put 14,000 employees on the site, doubling the number of workers at the large parcel.  After the headquarters building was built the local council realized that the traffic congestion around the site and the city was going to be a major problem. The city then proposed a per employee tax to gain revenue of $10 million versus the present tax structure based on square footage would have netted only $800, 000. The proposed funding would have been allocated to buses, road widening, express lanes and other traffic flow enhancements. Apple and other businesses protested so the proposal was tabled until the 2020 election.
Uber has gone into cities all over the country from its base in San Francisco without authorization, creating major competition to local taxi companies.  Cab companies in most cities purchase a medallion from the city at great expense, some in the hundreds of thousands of dollars to license them to provide ride services in the city.  Uber has run into opposition in some major cities like New York, where the number of cars is capped.
Google has quietly purchased hundreds of acres of land in downtown San Jose, until newspaper stories began to spot light the land purchases.  The high tech behemoth plans on deploying up to 20,000 employees around the city hub and train station.  Planning for a huge employee center near public transportation makes sense, but local businesses and housing near purchased lots are under pressure to sell to make room for the corporate plan.  Local housing groups are concerned about the availability of affordable housing and small business.
Next steps
Our concern is that major corporations, their planning departments and executives have so much power that local elected leaders have little clout to push back on building or development that may not be in the interest of the local community.  As local government struggles to gain revenues lost to an Internet based economy, and stiff opposition from local citizens to raising taxes causes local city government power to decline.
Local leaders will need to rethink their base of power in the city, seeking alliances with local businesses while building a base of economic support for city services.  Cities and states often interested in luring businesses to their local regions spending hundreds of millions of dollars in the process maybe missing the point of their charter.  Building necessary infrastructure, affordable housing, fast transportation systems, healthcare for those not covered and safe streets are their mandate from local citizens. It is a challenging time for local and state governments, yet they need to take up the mantle and assert the policies and programs they were elected to implement.  Plus, corporations need to take responsibility for their actions and how they affect building the common good of the community.