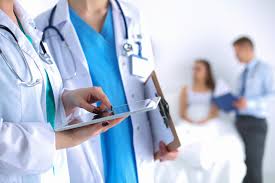 Image: wahospitality.org
Cancer treatment in the U.S. cost $87.8 billion in 2014, with 1.7 million new cases being diagnosed each year.  In a analysis by the American Cancer Society, patients paid $3.8 billion in out of pocket expenses for their care in 2014.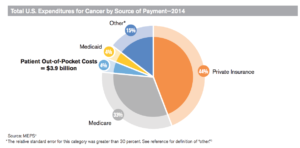 Source: American Cancer Society – 4/2017
One of the major problems in cancer care is the physician centric model the U.S. has today, which can create major delays in treatment and sometimes mismatches the patient with a specific type of cancer with the correct care program.
Driver, a startup with over $100 million in venture backing has developed an application on the Internet to help patients correctly identify the type of cancer they have and match them to clinical trials and treatment programs. The software allows the patient to be proactive about managing the course of treatment without being totally dependent the treatment processes of their healthcare provider. Driver has partnered with the National Cancer Institute (NCI) to provide access to the latest information on cancer treatment trials. NCI has also validated the matching process that Driver employs.
"There is an air gap between knowledge and patients that has existed in cancer care since the 1850s," said Driver co-founder Will Polkinghorn. "We want to close that space, " in a recent Bloomberg interview.
The Driver app puts the patient in the driver's seat so they are empowered to take command of their care.  As time is of the essence in cancer care, educating patients and giving them access to the information to initiate their care is crucial.  While the target is to provide the application and cancer identification workup at low cost, the initial trial starting this month in the U.S. and China will cost patients $3,000.
We have been an advocate of innovative ways to provide health care to patients.  Empowering patients to take direct management of their care instead of being dependent on a bureaucracy in a health provider network is an interesting approach.  Providing updated information, access to clinical trials with direct identification of the specific cancer the patient has, will possibly ensure greater accuracy and speed in the treatment process, thus saving more lives and reducing costs. Innovative solutions that disrupt the present status quo of extremely expensive health insurance, provider, drug manufacturers and federal government complex need to shift if we are to see a lower cost, higher quality healthcare system.  In particular, our Heartland healthcare providers are falling behind in providing standard health care to our people.  We need to turn this spiraling down in care with soaring prices, now.