(Editor Note: Insight Bytes focus on key economic issues and solutions for all of us, on Thursdays we spotlight in more depth Solutions to issues we have identified. Fridays we focus on how to build the Common Good. Please right click on images to see them larger in a separate tab.)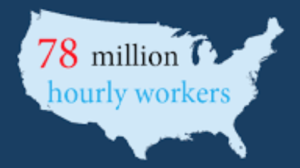 Source: payactiv.com
Disney announced this week that for 80,000 hourly workers in the U.S. to take online courses beginning this fall.  The media and entertainment giant will invest $50 million to kick off the 'Disney Aspire' education program with $25 million each year afterward.  Disney will provide up front funding for degree programs, high school diploma or learn a new skill.  The jump start funding enables  workers with little savings to begin taking courses right away. The program will begin with online courses only though classroom course programs may be added later.
Last May, Walmart introduced a tuition assistance program for 1.4 million hourly part-time, full-time and salaried workers to take courses online in business or supply-chain management. Employees will pay just $1 a day to participate in the assistance program. The retail colossus is looking to increase retention rates, and draw more new workers.  Drew Holler, VP of Innovation at Walmart U.S. was excited, "We know we're going to see an influx of applications."
Other major corporations are feeling the pressure to be competitive in benefits for hourly or retail workers. Starbucks offers a full tuition degree program for baristas at Arizona State University.  Chipotle Mexican Grill offers $5,250 in tuition assistance for degree programs.
However, for many hourly workers they have a difficult time committing to education programs due to erratic work schedules.  Our Walmart, an employee advocacy group, completed a survey of worker needs finding that 70 % of workers wanted more time scheduled to work full time, and more predictable timing.  Hourly workers are busy balancing work time with family commitments, like child care, doctor appointments and caregiving.
We have commented in our posts about the necessary investment corporations and government needs to make in education.  Hourly workers in particular have a difficult time getting more education due to random work schedules, little savings and limited study time.  Many of these programs begin to address the issue of upfront funding now they need to enable workers to actually go to school while working by offering predictable work schedules and flex time to handle family commitments.  We are pleased to see Disney, Walmart and other companies  respond to the need for workers to get a better education by investing in their employees' future and to see the move as good business.