(Editor Note: Insight Bytes focus on key economic issues and solutions for all of us, on Thursdays we spotlight in more depth Solutions to issues we have identified. Fridays we focus on how to build the Common Good. Please right click on images to see them larger in a separate tab. Click on the Index Topic Name at the beginning of each post to see more posts on that topic on PC or Laptop.)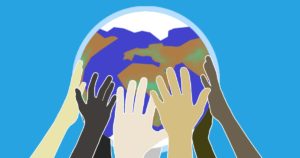 Image: YourLittlePlanet.jpg
A recent survey by the Public Religion Research Institute, showed that nearly 70 % of all Americans agreed that the dignity of the presidency had been damaged by  POTUS.  Even, GOP members agreed with this finding by 40 %.  Another point most Americans agree on is that the President should be more consistent with previous presidents by a wide margin of 69 %, the majority of GOP members agreed by 57 %.
We look to our Chief Executive to set the tone for national discourse on critical issues facing the country – not abusive language, mocking, and divisive rhetoric most of which is untrue.  It is heartening to see that most Americans see what is happening today as being out of bounds in the dignity and behavior of the present Chief Executive.  Americans still have respect, and support a President who is seen as fair, truthful and exemplifying dignity.
If we can't get the building of civil national discourse going at the top – let's start building from the grass roots up.  The following observations on building service in our lives is attributed to Mother Teresa:
"If you are kind, people may accuse you of selfish, ulterior motives. Be kind anyway, What you spend years building, some could destroy overnight.  Build anyway.  The good you do today, people will often forget tomorrow. Do good anyway.  Give the world the best you have, and it may never be enough. Give the world the best you have got anyway. You see, in the final analysis it is between you and your God…anyway."
Over 80 % of Americans believe in God or some higher spiritual force.  Maybe we start with the universal understanding that as spirit beings we need to be building our communities, families and relationships with each other.
Let's start building regardless of whether we receive a positive response in return or our motives are suspected.  The world needs nothing less than the best we have to give today to bend the arc of universal justice toward equality and peace.