(Editor Note: Insight Bytes focus on key economic issues and solutions for all of us, on Thursdays we spotlight in more depth Solutions to issues we have identified. Fridays we focus on how to build the Common Good. Please right click on images to see them larger in a separate tab. Click on the Index Topic Name at the beginning of each post to see more posts on that topic on PC or Laptop.)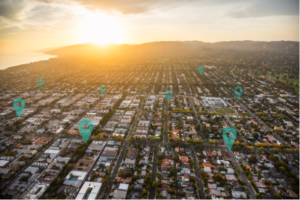 Image: opportunityinsights.org
Last week a non-profit research and policy organization, Opportunity Insights published a startling map and database linking the success of children in poverty to their neighborhood to climb out of poverty.  A key finding is that children growing up in neighborhoods where there is low income continue to live in poverty as adults.  Though of more interest is that all factors being equal children where there where two parents in the household did significantly better than children in one parent households.  Family structure made a significant difference.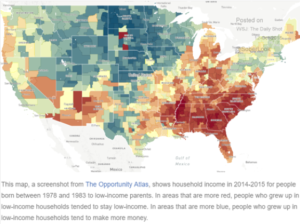 Source: Opportunity Insights – 10/4/18  (areas in blue, children who grew up in low income areas tended to make more money, children in dark red far less)
Certainly, households with just one bread winner, generally automatically means that there  is less income in that household.  Opportunity Insights notes that often single parent communities do not have the same 'social capital' as two parent communities.  In terms of parents that can support their children, tutoring after school, going to after school activities and a father who is there to provide support to the mother.  Particularly, for boys having a father in the household seemed to be determinative in future opportunities boys enjoyed in adult life.  Key to forming the right skills for a higher income is an example of a mother or father working a job, focusing on nurturing their children's skills and being an advocate for the child in the school system.
John Hope Bryant, CEO of Operation Hope, a for purpose non-profit group helping low income people through financial coaching and skills development to build a secure economic future. Bryant notes that 63 % of middle income Americans cannot afford a $500 car repair or $1000 in emergency health care. Without financial independence, people cannot protect themselves from social injustice, economic manipulation and profiling, People need to learn how to build personal 'capital' to dig out of the community that keeps them in poverty. He observes growing up in Compton, a California low income community, that children in the neighborhood grew up with no positive aspirations.  They continue to be surrounded by negative roles models: drug dealers, loan sharks, and criminals who have the economic power.  Yet, they don't have the 'capital' or knowledge on how build wealth in a positive way and key relationships.  A person with no hope is a dangerous person, who becomes angry, vengeful and desperate. Bryant says there are three types of issues for children in poverty neighborhoods:  low aspiration and few opportunities for 25 % of the problem, poor role models and a negative family and community environment for another 25 % and finally low confidence and self-esteem for 50 %.
Next Steps:
The Labor Force Participation Rate for  adults ages 24 – 54 is 82.5 % is at a new low, and has been declining since the Great Recession. The opioid crisis, a symptom of the hopelessness that many of our young people feel today is causing millions of otherwise productive people to not join the labor force.  Deutsche Bank completed an analysis of how the opioid epidemic is hurting labor participation in many states.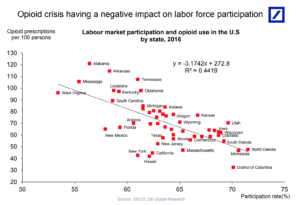 Sources: OECD, Deutsche Bank Research – 9/10/18
Researchers found that states in the South (overlays the poverty areas in the neighborhoods map above) Alabama, Mississippi, Arkansas and East Central – West Virginia there is a high correlation of opioid prescriptions and labor force rate.
It clear from a moral, ethical and economic standpoint we need as a country to invest in our young people who face increasing challenges in becoming upwardly mobile.  How do we do it?
John Hope Bryant is investing in people in these neighborhoods by providing families and individuals with tutoring to increase credit scores (maps of FICO scores of under 500 map into the above areas too) and how to get low cost loans.  Bryant sees developing entrepreneurial skills in starting new businesses as a way to move economically ahead as well.  More important is learning how high income people became wealthy through building relationships and developing the courage and skills to start a new business.  As he notes, moving from one failure to the next to learn and see trial and error as a necessary part of the path toward creating a product or service of value. The entrepreneurial process builds self-esteem and confidence so crucial in transforming lives and creating opportunities.
Opportunity@Work, a non-profit group originated in the Obama White House, then spun off is tackling the education issue head on with training focused on helping those outside of the economic mainstream to get jobs in the new economy. The group helps candidates get the skills they need in high tech, then making the connection between employers and workers with a non-traditional resume.  In addition, they are pioneering new ways to finance education so that students will not be saddled with thousands of dollars of education debt when they start their careers.  Opportunity@Work is targeting assistance for 1 million people to get hired in the next decade.
We have proposed that a Marshall Plan-like initiative with an entrepreneurial approach be led by the federal government, venture capitalists, corporations, health providers, non-profits and universities to gain a beachhead in many low income communities particularly in rural areas of the Midwest and South. The Heartland Initiative brings key leaders in many fields to focus with high impact on enabling a community and its people to join the economic mainstream from upgrading Internet speeds to providing local access to affordable health care and counseling for mental health issues.  It is a multi-faceted project because there are connected issues, it is one thing to provide a young person with training, but if they are still taking opioids they will fail a drug test by a hiring firm.  Details about the Heartland Initiative are in our post, calling for a new approach to social programs using an entrepreneurial model with seed financing and cooperative groups to spring into action.
We need to bring those that have been on the economic sidelines back into the mainstream of our economy if we are to make any progress as a nation on building an economy that works for all.  With mounting national debt in the trillions of dollars, student debt at $1.5 trillion and opioid deaths at epidemic levels we need to see building the economic power of our youth as one solution to our economic challenges.