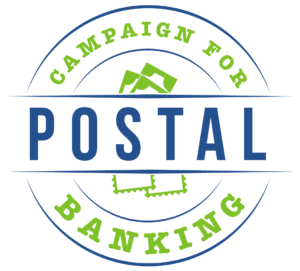 Image: Campaign For Postal Banking
As payday lenders make low cost loans to minorities and the poor at exorbitant interest rates a possible solution is at hand.  Senator Karen Gillibrand – D- NY and Congressman Ro Khanna – D- CA 17 and others have introduced a bill to provide checking accounts, savings accounts and low cost loans to underserved neighborhoods in cities across the US.   Many community banks and large city banks left these neighborhoods in the 1990s when banking deregulation occurred for more profitable locations.  We have seen the present GOP Administration pander to payday lenders by relaxing consumer protection regulations that cap loan rates and require full disclosure for loans with interest rates of 400 % to 1200 %.  Fourteen states of have outlawed payday lenders entirely. There are 37 million the adults that do not have a bank account: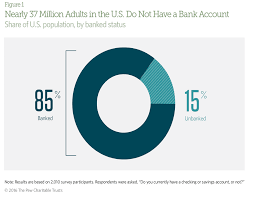 Source: Pew Charitable Trust – 2016
The Postal Banking Bill would offer loans up to $500 at T-bill rates of 1.65 % clearly targeting the payday lender market. The Postal General in a report on the bill viewed that rate as too low and will probably need to be raised to 25 % to handle possible defaults. According to the United Nations Postal Union 87 nations provide checking and savings accounts to over 1 billion customers, though not that many offer low cost loans.
We need to serve those that have been left out of the economic mainstream by offering reasonable low cost financial services with inexpensive loans – not making our low income population a target of loan sharks.