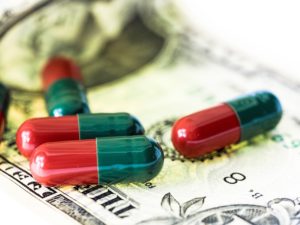 Photo: NASHP – National Academy for State Health Policy
The Administration last week announced a series of proposals to reduce the price of medicines for seniors and the general patient population.  The policy initiatives include: review ways to speed generic drugs to market,  placing trade restraints on countries until they pay their fair share of a drug's costs, lowering out of pocket expenses for patients, require drug companies on TV ads to list the price of the drug advertised, updates to a Medicare drug pricing monitoring tool, and not until 2020 more transparency on drug list prices to consumers, drug rebates from manufacturers will be passed through to consumers, considering a requirement that middlemen like pharmacy benefit managers act in a fiduciary role for clients (consumers), and a report on how to use the Medicare Part D (drug) plan to negotiate for services Medicare Part B (services).
When investors and drug and biotech companies saw how vague the plan was, and the fact it did not give Medicare the right to negotiate prices stock prices went up after the 11 am announcement: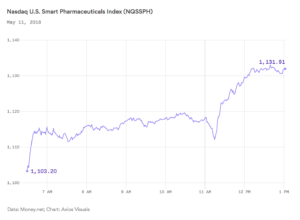 Sources: Money.net, Axios  – 5/11/18
Today, biotech stocks were up another 1.0 % and health insurers Aetna and United Healthcare saw stock price moves up almost 2.0 %.
POTUS promised repeatedly during his 2016 campaign that drug companies were 'getting away with murder' on pricing.  He even promised to Rep. Elijah E. Cummings (D- Maryland) in March of 2017 that he would seek Medicare authorization for drug price negotiations.  He did not provide for direct negotiation by Medicare in this set of proposals, basically selling out the American people to the drug and biotech industries.
Next Steps:
"Until we get closer to policy solutions that address the ability of drug manufacturers to set whatever price they want and increase prices year after year, we may only be scratching the surface of this problem." — Juliette Cubanski, a health-care expert with the Kaiser Family Foundation.
Ms. Cubanski perfectly outlines the problem; drug company pricing power is out of control, shows not restraint and little regard for the common good.  Drug companies are making money off of people that are sick or dying.  They have a social responsibility for the common good of all people to ensure their drugs are safe and offered at the lowest possible price.  We have proposed previously and continue to believe that just showing list prices for advertised drugs is not enough – prescription drug advertising on TV should be banned as it is in all countries of the world except New Zealand.  Banning advertising would give the drug companies at least $ 1 Billion per year they could put into research and development or to cut the cost of drugs.  The pharma industry is one of the worst offenders in manipulating stock prices in a misleading way, and juicing executive compensation with stock buy backs.  Companies like Amgen and Abbvie plan to buy back shares totaling $20 billion in 2018 which could be better used to lower prices or increase productivity, if the whole industry is considered it is over $50 billion.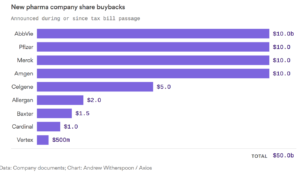 Source: Company filings, Axios 5/11/18
Stock buy backs can be banned by an SEC policy change and do not require Congressional approval it should be done now covering all health industry companies not just pharma companies.
We are pleased to see the Administration moving on stock rebate discounts going directly to consumers as we have noted in the past.  Yet, these proposals are so vague, are missing timelines and will need to be supported by officials in the Health and Human Services organization whose Director came from Eli Lilly.  What we think will really happen is these proposals will be used as PR pieces to the voters for the mid-term elections while industry lobbyists water down the key provisions in back rooms.  Certainly, the drug companies and investors see nothing to be concerned in the POTUS plan – so if it doesn't hurt their valuation then these policies may be really don't really have any bite. We want our drug industry to be profitable and thriving but at the same time it needs to take social responsibility for its products. Since the industry can't seem to focus on a fair profits for its products,  our government needs to bring these companies into alignment on the common good for all the people.